December 2022
09
When listing your work experience on a resume, you must provide accurate and specific information about the jobs you've held. This should include the name and location of the company, your job title, the dates you worked there, and a brief description of your responsibilities and achievements.
It's also a good idea to use bullet points to make the information easy to read and understand. Additionally, list your most recent and relevant experience first, and avoid including irrelevant or outdated information.
Related Articles:
By carefully presenting your work experience on your resume, you can show potential employers that you have the skills and experience they're looking for.
How to list it right? Read on for a comprehensive guide on listing your work experience in your CV.
How to List Down Your Work Experience in Your CV?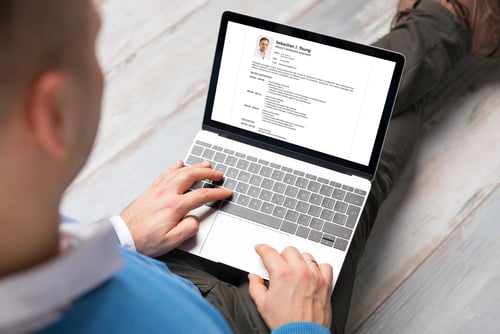 To put your work experience on a resume, follow these steps:
Start by listing your most recent job first, and then work backward in time.
Include the company's name, your job title, and the dates you worked there.
Use bullet points to list your responsibilities and achievements for each job.
Keep the information concise and relevant, and avoid including irrelevant or outdated information.
Use action verbs to describe your responsibilities and achievements, such as "managed," "led," or "implemented."
Use keywords from the job description to highlight your relevant skills and experience.
Here is an example template for listing your work experience on a resume:
Remember to customize this template to fit your own experience and the specific job you're applying for. By carefully presenting your work experience on your resume, you can show potential employers that you have the skills and experience they're looking for.
Formatting Fundamentals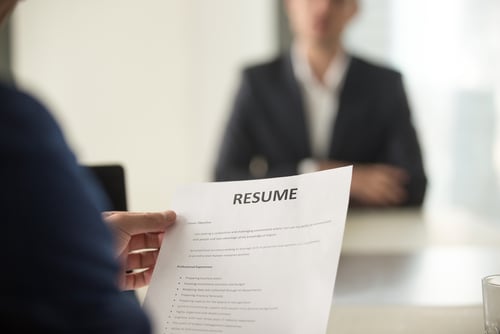 Your resume is your selling copy; It's an intensive source for all professional information about you. It also demonstrates how perfect you are for the position.
Since it's a "copy," you must know how to list all your job duties and accomplishments on 1 page.
When mentioning your former employment responsibilities, use a reverse-chronological sequence.
Please follow the traditional work experience sequence where you mention:
Job Title and Position
Company Name / Description / Location
Dates of Employment
Responsibilities and Achievements
Work Experience Sample: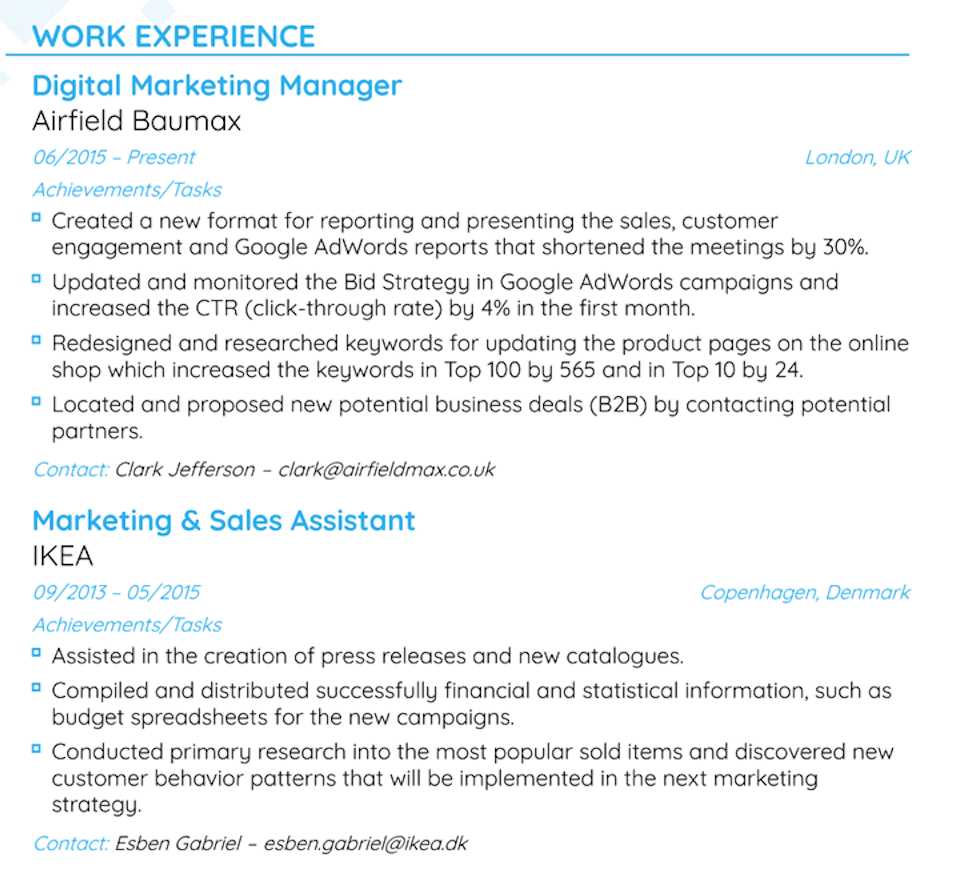 Position / Job Title
Mention your job title first.
When scanning your resume, your job title is the first thing HR sees, so make it simple and mention it first.
Your job title has to be professional and describe your position.
For better ranking, if an ATS is used, you can use the same job title mentioned in the job ad.
Name, description, and location of the company
They will ask for further information if the position appears to be a good fit.
If the firm is not well-known, you can mention it in 1-2 words. You should also constantly include the company's site.
Seek to limit the overall paragraph to 3-5 positions and only eliminate extra relevant work experience if you're out of space and can't delete anything else from your résumé.
Duties and Accomplishments
When mentioning accomplishments on your CV, include any outstanding achievements that may convince HR that you are a good candidate for the position.
Prioritizing your achievements to stand out is advisable since all applicants will list their responsibilities first.
If you are a fresh graduate and have no accomplishments, you can stick to mentioning your responsibilities only, and in all cases, your duties shouldn't be more than 6 bullet points.

Employment Dates
Although it's obvious, mentioning your work dates is essential since they demonstrate some aspects of you as a professional; if you don't remember exactly when you joined and exited a specific job, you can mention the years only.
Dates are often written in the format mm/yyyy.
If you opt to utilize the mm/yyyy style, ensure your previous job history entries appear in the same type.

Should I Include My Internships in The Work Experience Section?
If you are applying for a senior-intermediate job, you should probably omit the internship you performed 4-5 years ago.
If you are a fresh graduate, on the other hand, internships are a terrific method to demonstrate your worth and commitment to your chosen professional path.
We all have started somewhere, so judge it and mention your internships where you see they will find beneficial.
What Should I do If I Lack Relevant Experience?
When you are a student, a fresh graduate, or a professional shifting careers, you may find it difficult to list relevant experience to the job you are applying for.
In this scenario, you can highlight your strengths by shedding light on your volunteering activity, summer jobs, and graduation projects.
Recruiters understand it, especially when it comes to entry-level jobs.
How Do I Mention Gaps on a Resume?
Gaps are not yet red flags, especially after the Coronavirus era. Yet, some recruiters may expect you are not committed to your professional life.
So, explain the reasons in a simple and brief sentence to avoid misunderstanding.

How to Shine Through Your Work Experience Section?
Merely listing your daily duties will lead you to nothing but deep silence.
Every section in your resume plays a role in convincing the recruiter; want to unlock the secrets of crafting the best work experience section? Read on!
Replace Your Responsibilities with Your Achievements
It's the era of adding value, so you have to prove how you are a valuable asset to each organization you join.
Mention your accomplishments instead of just listing down your known daily responsibilities.
Recruiters will be interested if you boost the total sales rise from 10% to 30% and develop a new sales strategy for the year.
They want knowledge and any measurable improvement you can bring to their organization.
If, on the other hand, you were in a job where you couldn't make any notable successes feel free to mention your tasks and duties.
Tailor Your Work Experience Section to the Job Description
Read the job posting thoroughly rather than just skimming it and moving on.
This will help you convince the robot recruiter ATS when scanning your resume for the keywords and convince the human recruiter who hasn't hands-on experience with each specific position.
Both will find what they want while using the exact keywords and terms in the job description.

IT Developer Work Experience Example: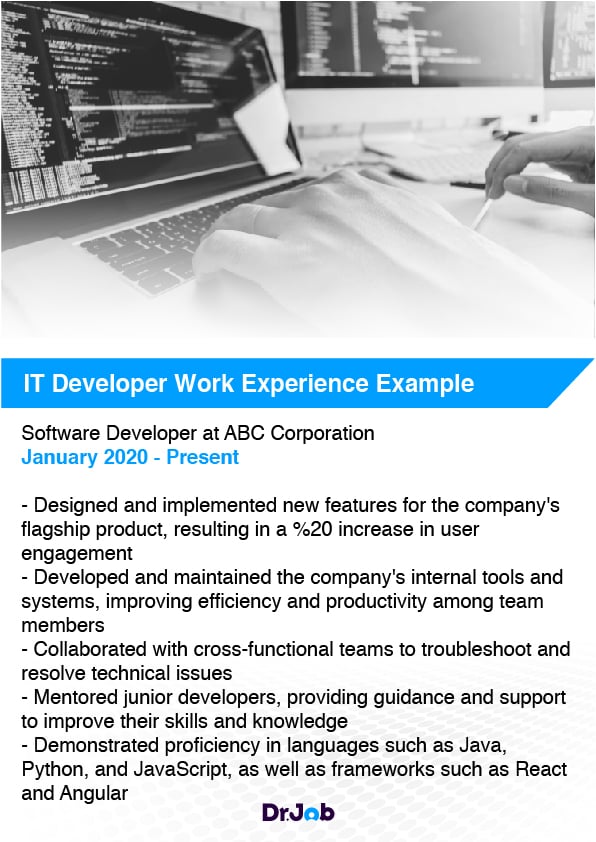 Accountant Work Experience Example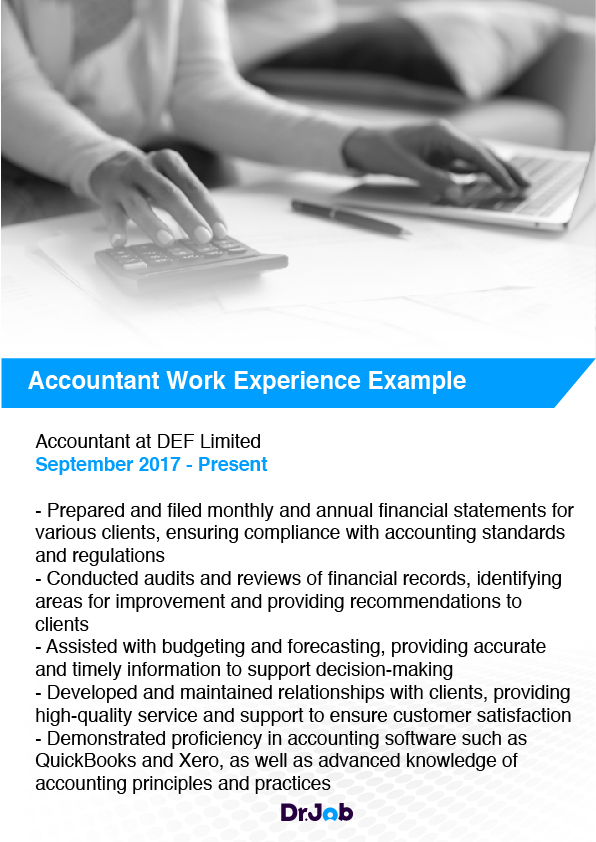 Student Work Experience Example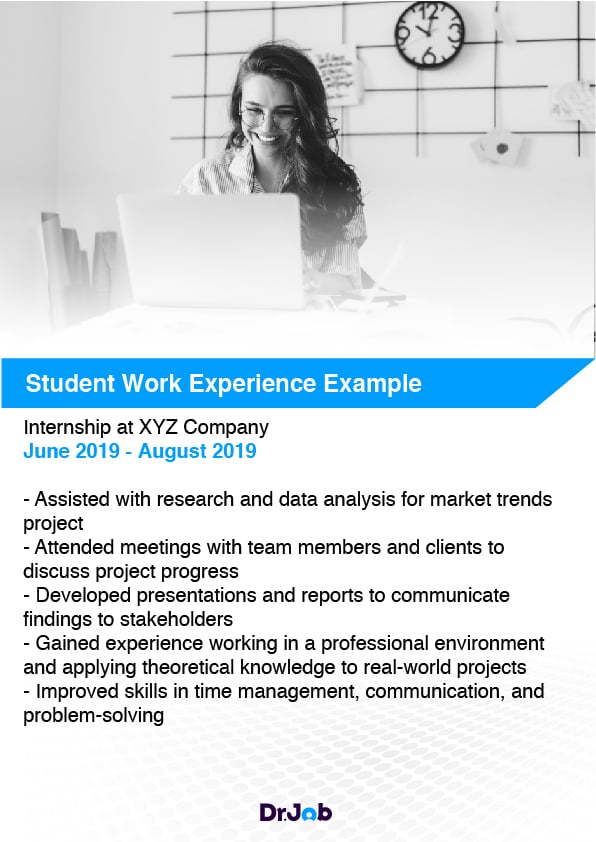 Work Experience- Conclusion
In summary, the work experience section of your resume is an essential part of your application and should be formatted in a way that is easy for the HR manager to read. This includes information in the following order: job title, company name, location, dates of employment, responsibilities, and achievements.
Customize this section to the job ad and highlight any relevant achievements to stand out. Consider also including internships and how they fit into your overall resume format. Keep in mind that the overall quality of your resume is essential, so make sure all sections are in sync.