July 2022
17
How to Write a Resignation Letter - Are you prepared to leave your position? If such is the case, it would be wise to formalize the terms of your departure by submitting a resignation letter.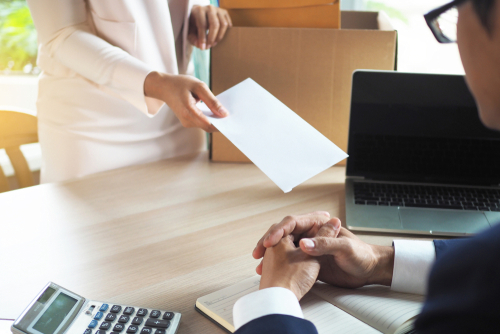 However, what exactly is a resignation letter, and why would you want to write one? What information should it contain? When should you provide notice to a soon-to-be ex-employer?
Here are guidelines for composing resignation letters introduced by Dr. Job.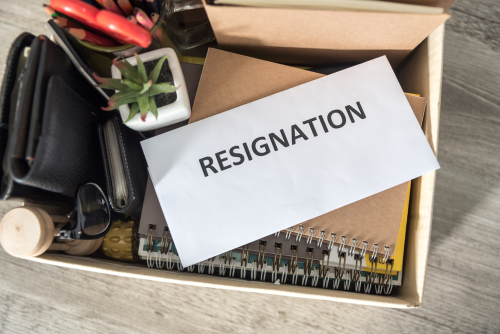 Main Points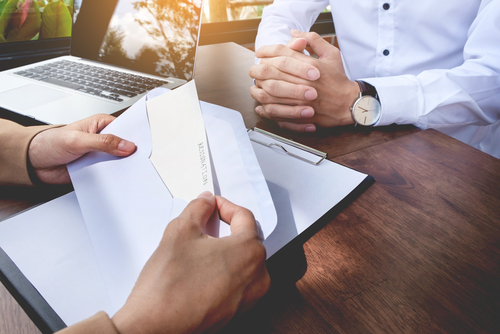 A formal letter of resignation informs an employer that you are quitting your position.
An official resignation letter will include your intention to leave, the date your job will finish, and your contact details. Additional information is optional but can be included.
Resignation letters may be delivered in person or electronically. In some circumstances, you might want to present a printed letter to a manager face-to-face.
What Is a Resignation Letter?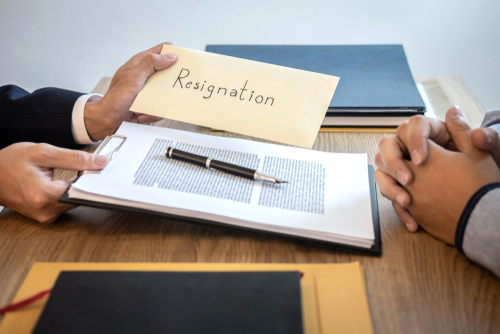 You notify your employer that you are leaving your job via a resignation letter. It can be delivered through email or as a printed letter and formally announces your resignation from your current position.
Read also, How to Write A Job-Winning Cover Letter? (Sample included)
The letter serves as formal notice of your resignation and outlines the specifics of your exit from the company, including the date your employment will cease.
When Should You Send Your Employer a Resignation Letter?
Unless extenuating circumstances necessitate your resignation without prior notice or with little notice, it is courteous to submit your resignation letter well before your departure, with two weeks being considered the least.
You could occasionally be unable to give notice. Give your employer as much information as is practical under the circumstances if you are working in a challenging environment, have a family emergency, or other situations necessitate your immediate departure. You are not compelled to give notice if you are regarded as an at-will worker.
When quitting your job, it's crucial to abide by the conditions of your employment contract if you have one. Check your agreement to find out how much notice you must give your employer.
Have a printed copy of your resignation letter on hand to provide to your manager if you decide to inform them in person that you are quitting. However, you can send your resignation through email if you work remotely or leave on short notice.
Contents of a Resignation Letter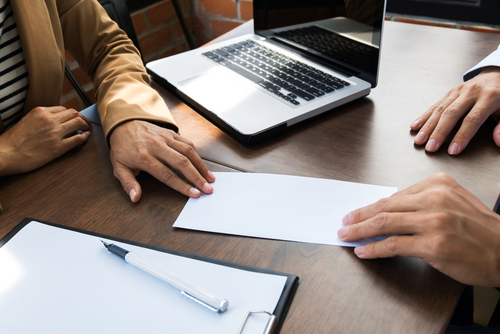 It's critical to step down from your position with class and professionalism. You don't have to give a detailed explanation, though. Keep your email or letter straightforward and fact-focused.
Here is a list of what should be in your Resignation Letter: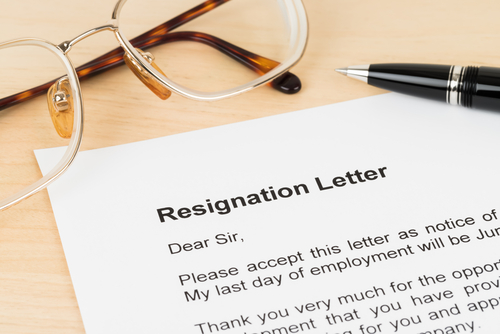 Your Intent to Resign: Your letter should begin by stating your intention to resign.
Your Last Day of Employment: You should mention the specifics of the day you intend to end your employment with the organization.
Employees frequently offer to assist with the transition, possibly by finding or training a replacement. The employee and the employer can walk away from the situation feeling satisfied, respected, and amicable if done this way.
You can address any concerns about your final salary or benefits in your letter or email.
Your Contact Information: Make sure the business can reach you by including your direct contact line.
You've Signed: Your written signature should appear above your typed name on a hard copy letter. In an email's subject line, type your name.
A resignation letter will frequently praise the employer for the chances provided and describe experiences obtained at the company or how the employee loved their time there to ensure a positive and graceful leave.
What to Leave Out of Your Resignation Letter: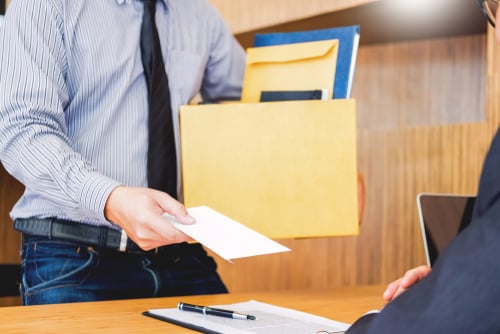 When composing a resignation letter, the following things are off-limits:
The reason you're moving on doesn't need to be mentioned, especially if it's regrettable.
Letters of resignation are not the place to voice grievances or criticisms of the employer, boss, or coworkers.
You don't need to state in your letter that your new position will pay more money (if you are). It would be best to have that chat face-to-face if you're hoping for a counteroffer to persuade you to stay.
Never mention how outstanding your new work is or how happy you are to be left in your letter.
Burning bridges is pointless if you've already decided to go on. Don't grumble; keep it straightforward, and stick to the facts. Since you might want the employer to serve as a reference, it would benefit if you left on a positive note.
How to Write a Resignation Letter: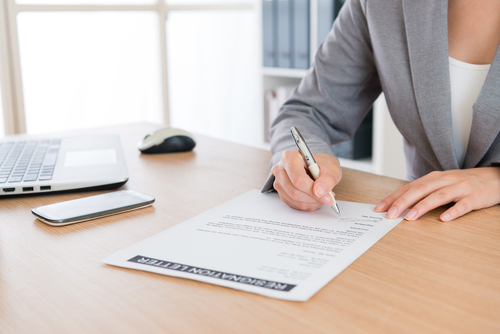 Your contact details, a formal statement that you are quitting, and the date of your last day at work must all be included in a resignation letter. Although they are unnecessary, you are welcome to provide further information.
A sample resignation letter includes information on what to put in each area.
Contact Information (Written Letter): Contact information for both you and the employer (name, title, business name, address, phone number, email) should be included in a written letter.
Contact Information (Email): After signing the email resignation letter, put your contact information at the bottom of the document. The company's contact information is not required.
Please use the formal greeting "Dear Mr./Ms./Dr." when addressing the resignation letter to your management.
In paragraph 1, you should mention that you are quitting your work and the day on which it will take effect. That will serve as formal notice to the employer for your personnel file.
Paragraph 2: (Optional) (Optional) The reason you're leaving can be mentioned, but it's unnecessary. If you decide to explain, make sure it's a good one, like beginning a new job, quitting your employment, or returning to school.
Paragraph 3: (Optional) In your letter, indicate your availability if you can assist with the changeover.
4th paragraph: (Optional) Mention your thanks for the opportunity you had to work for the organization. Tell us about anything that was particularly satisfying if you can.
Use a formal closing, such as "Sincerely" or "Yours sincerely," to conclude your letter.
Signature (Written Letter): Sign off the letter with your handwriting, then type your name after it.
Include your typed name and contact details in your email signature.
A Resignation Letter's Format: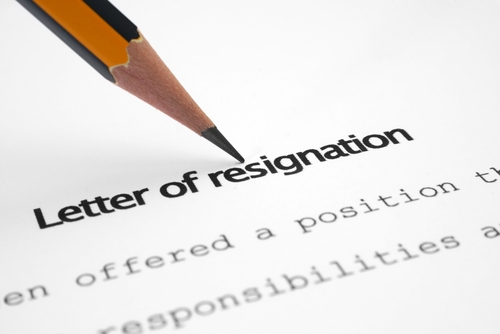 Resignation letters must be straightforward, concise, and written in formal business format with a conventional typeface.
Letter Length: Most resignation letters are only one typed page long.
Use a standard font, such as Times New Roman, Arial, or Calibri, and set it to a standard size. You should use a font size of 10 to 12 points.
Format: A resignation letter should be written with one space between each paragraph and be single-spaced. Left-justify your text and set your margins to one inch (the alignment for most business documents).
Example of an Email Resignation Letter: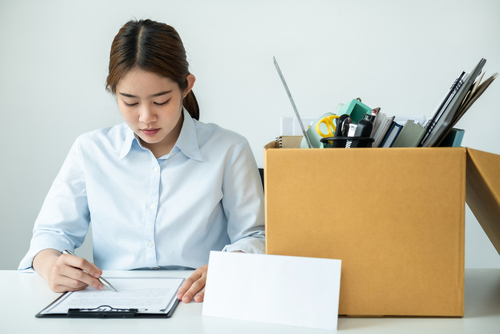 Subject: Resignation of Jane Winston
Greetings, Ms. Maxine,
I am leaving McTavish & Co., so please consider this resignation letter. This Friday, August 6, 2022, will be my last day working for the organization.
I regret giving you such short notice. During my time with the organization, I have learned a lot and have liked working on the customer support team.
If there is anything I can do to help with the transition over the next several days, kindly let me know.
Sincerely,
Jane Winston