March 2020
26
Are you dreaming to become a Technical Head? DrJobs interviewed Mr. Sharief Mahboob Technical Head of Dreamsoft Computers LLC., a leading IT and Digital Marketing company in the UAE. Here's the summary of our interview, enjoy reading.
Tell us about your current job?
Working as Technical Head with Dreamsoft Computers LLC I place myself into a deep understanding of the company's current and future technology aspects. I got this opportunity earlier in my 30's hence my curiosity to learn never goes away from my mind about potentially relevant new technologies coming on line or in development. This position needs a lot of patience and great willingness to challenge the everyday network threats, management and great leadership.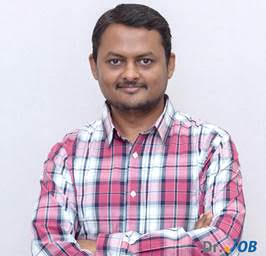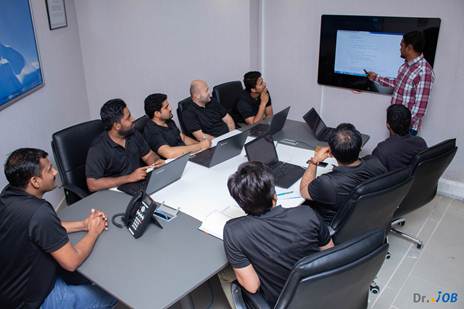 My Job is to Conceptualize, define, and manage technology projects and IT infrastructure. I need to lead and manage two set of teams Hardware and Software team. In case of Hardware I need to take care of IT infrastructure, eliminate security risks, check Data center operations and maintain overall IT related operations and systems. In case of Software team I need to ensure progress of multiple projects against schedule, within budget and to high quality standards. Mentor/educate team members and peers in project management methods and best practices.
What does the Technical Head do?
My team sits in three regions Hardware and Network Team in Dubai, Software Team in Abu Dhabi and India. My team is my backbone and a great support to me. In Abu Dhabi I have two technical leads who manage the development team in India and the team in Dubai takes care Hardware and Network team of our data centers and our office premises. My team members are a total of 15 employees who manage the whole IT infrastructure.
What are your expectations from your team?
My team understands their role and they keep up to my expectations always. My expectations from them is to improve the quality of the applications they make and improve themselves knowledge wise. I always ask them to work as a team together and don't compete with each other also be willing to try new things is what I advise them every time.
How do you manage your team?
My team is very dedicated and hardworking they understand their deadlines and their duty to finish the work and leave, even if it takes extra office hours to complete. I guide them and lead them by explaining the expectations of the company and the trust that the management has upon us. Our CEO always says that if the leader is good then his team will do the best so I try my best to lead my team with new technical aspects and teach them the way to solve a complex problem into easy pace.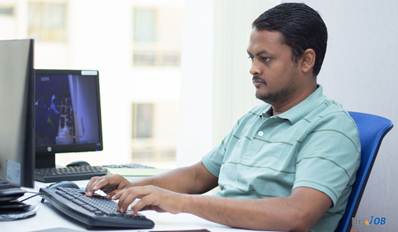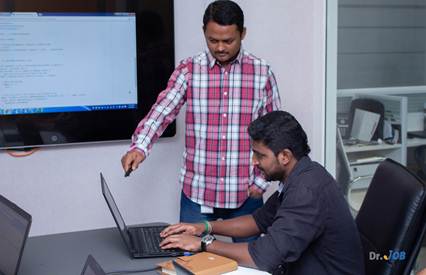 How do you motivate your team?
My mantra is simple I ask everyone to respect their job even though the job/company is small or big do your best. In simple words I ask them to enjoy your work and celebrate your successes. I ask my hardware and network team to respect all employees the same be courteous and sensitive to their concerns and needs. If you take care of your employees properly they will take care of your work properly is what I believe.
What do you enjoy most working with Dreamsoft?
The challenges I face in my daily work is the most enjoyable part in my role. Every day I face a new challenge be it is a new technology implementation or a new security threat to our server and applications. We never see the clock and work we strive hard to resolve any ongoing issues. I always enjoy the late night team work with Tea and the long sessions with our CEO discussing about our future project plans
What is your advice to the jobseeker seeking position in your department?
My advice to job seekers is if you decided to switch your job then don't waste the time of yours and also of the company. Apply through a right portal and be pro-active in your job search and always choose the job which match your profile exactly.

If you were given important project to develop what would it be and how it will help the business and end user productive?
Reading your customer's mind is the very first step for developing any project like what are his expectations and how can we solve his ongoing issues. Proper requirement gathering and a feasible plan to execute it should be the agenda of any project owner. For example a football team is successful only when each member on the field perform well with his specific responsibilities and strategies, so too in project management. Each stakeholder plays a specific role and key role in the overall management of the project. Defining each member's role and responsibility is one of the first steps for success.
How do you spend your free time after work?
I usually focus to my hobbies mostly reading technical articles and I am a gadget freak I surf a lot on internet about new devices and their features. I like to listen melodious old songs of 90's and spend time with my family. My interests in sports is very less but since Cricket is popular in my country I like to watch only the final match played by my country.
Apart from school and college books I never had habit of reading books. I don't like to read books in fact I am a last chapter reading person any book I take I go to the climax or to the end of novel to know what happened in the last I do this with every book I read. I also love cooking different dishes and I love eating chicken. If you give me any dish that you prepared with chicken would be my favorite.
In terms of holidays, I did not travel much but I would love to visit Paris, London, Sydney and New York and these are my favorite destinations. Whilst in terms of gadgets I am a fan of SAMSUNG products I like every product they make from Mobile phones to Refrigerators. I have a Samsung S9 mobile and I waiting for Samsung's next release of Galaxy S10.