March 2023
15
You must write the best office assistant CV to start working in a company. Although it may seem simple, the truth is that it takes your job, and specific requirements must be met. For this reason, in this post, we will teach you everything you need to know to create a successful office assistant CV.
What is the Office Assistant Resume?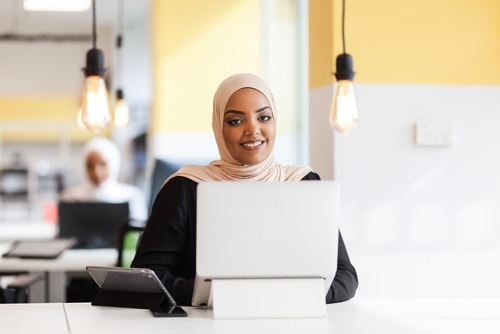 The office assistant resume is your letter of introduction and what makes you known to the company as an outstanding professional. Not just any person is hired to act as an administrative assistant. It is a position that requires trust, credibility, responsibility, and various qualities.
An office assistant can be in human resources, accounting, sales, marketing, customer service, and others. It is one of the most critical positions within a company since it becomes a source of support for its development and growth.
Example of an Office Assistant CV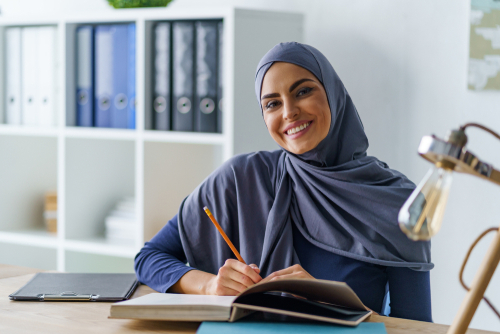 Monica Chris
Office Assistant
Dubai, UAE
Phone: 444 444 444
Email: [email protected]
LinkedIn: /monicaadmin/
Professional Summary
Effective administrative in sales and marketing with more than 5 years of experience in manual and electronic invoicing. I am a customer service specialist, preparing records and drafting documents. I learn quickly and adapt to the internal processes and tasks of a company. I have worked with various booming companies in multiple fields, in economic crises, SMEs, public and private.
Work experience
Administrative assistant- Happy Technologies
March 2019 – Present
Accounting record of payroll, invoices, payments, and collection operations
Financial Operations Management
Issuance of tax records
Increased business performance by 10%
Academic training
Business Degree
Faculty of Commerce
September 2006 – May 2010
Skills
Public attention
Assertive communication
Persuasion and negotiation
marketing techniques
Sales strategies
planning
What format is best for an office assistant resume?
The administration is essential in a company, but it is also one of the most important aspects of a resume. It gives your CV a solid structure that is easy to read and captures attention from the first moment. There are three main formats for a resume:
Reverse chronological order. It is a structure that explains your most important work achievements in descending order. It is designed for people with a long history.
Functional resume. It is a document that focuses on your most relevant aptitudes, skills, and competencies. It is practical for those who are starting their professional career.
Mixed CV. Gather various aspects of the two previous formats, combining the points that you consider most appropriate. It is also suitable for assistants with little experience.
Professional summary in the administrative CV
The professional summary is one of the most impactful sections of any resume. It doesn't just introduce you to recruiting, it lets you look like the best candidate for recruiters. A short one-paragraph excerpt outlines your recent accomplishments, skills, and goals.
You are probably wondering how to do this in so few lines, but it is not as complicated as it seems. Take a look at the following example template:
RIGHT
Administrative secretary with more than 10 years of experience in purchase and sales operations records. I specialize in customer service and billing, both manual and electronic. I have achieved 98% accuracy in document records and 100% reliability in business accounts. I have skills in marketing, human resources, accounting, and sales. I hope to work in your company to contribute my knowledge and work as part of a team.
A simple presentation, to the point, and that explains everything a recruiter is looking for—a candidate with ample possibilities to excel in the personnel selection process.
Remember: The summary is the first section recruiters look at in the personnel selection process. If this section is not attractive, they will discard the resume in seconds.
What is the wrong summary?
INCORRECT
I am a recently graduated administrative officer who seeks to enhance his career in a company. I like numbers, paperwork, documents, and everything about running an office. I aspire to improve my experience, earn money and be a renowned professional.
This candidate has no experience and does not find much to say in his summary. Not to mention that his tone borders on informality and that he cannot provide much relevant information; however, it's not that bad.
In these situations, it is best to resort to a professional objective, which gives a different approach to this section.
When to use a professional objective instead of a summary?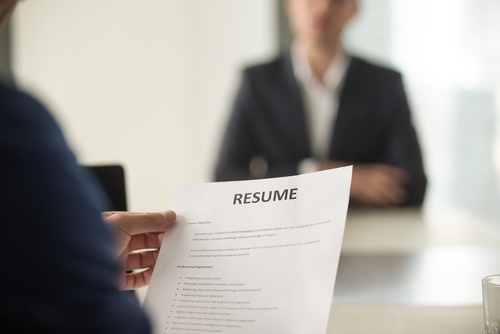 The career objective makes the same presentation on your office assistant's CV. The difference is that instead of focusing on your career path, it focuses on your skills and aptitudes. It is the most appropriate resource if your career as a professional is beginning.
Look at the following example:
Graduated in business administration, currently studying for a master's degree in customer service. I have participated in 2 investigations at the University of Ajman related to the optimization of resources. I obtained the best average for my grade, with a mean grade of 9.6. I work with assertiveness, confidence, efficiency, and responsibility. I want to offer my administrative knowledge to your company to improve its performance of the company while promoting my career as a professional.
Describe your experience optimally
This a vital section on any office assistant's CV, whether or not you have a solid track record. All recruiters want to know if their candidates have managed to function in the professional world. For this reason, it is essential to describe this section objectively.
Start with your most recent jobs in reverse chronological order. Explain your technical job title, the institution where you worked, and a short list of accomplishments and responsibilities. If your career is extensive, detail only your last three jobs.
The following example will help you:
Administrative assistant
Hamed & Sons Co.
February 2019 – Present
Office Assistant Specialist
Redaction of documents
Translation of reports into English
95% satisfied customers
A simple description that goes to the point and that in a few lines shows that it is a very effective assistant. It is unlikely that there is another candidate who can cope with this girl.
And if you don't have experience?
One of the most frequent doubts in an office assistant resume is what to put in the work experience if you do not have it. Mistakenly some decide to eliminate this section of their CV , but it is a mistake you should not make.
All people, in one way or another, have some experience; Professional practices can be included in work experience if you are a recent graduate. It is also possible to add freelance work and personal research.
Academic training: how to write it correctly
No entrepreneur will leave his company in the hands of someone who does not have the necessary skills and knowledge. Therefore, the education section is essential in your resume. As with experience, using reverse chronological order is best.
If you have a university degree, do not write your baccalaureate, as it would not be relevant to the position. Briefly narrate the title obtained, the institution where you studied, and the start and completion date.
If you don't have much work experience, make the education section your primary focus. Add a short list of academic achievements to enhance the attractiveness of the document.
A good example is the following:
Degree in business administration
University of Sharjah
September 2007– May 2011
GPA of 9.8
2-time student of the year
Skills in the office assistant resume: how to use them in your favor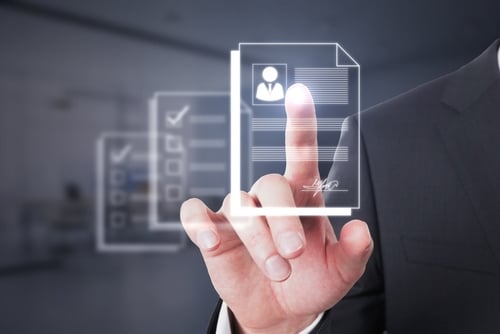 The skills enhance your professional profile and make it look much more striking. And it is that apart from your experience and knowledge on the subject, you must also be able to function with skill. This is where skills come into play to complement your resume.
You must know how to choose the essential skills for the job. To do so, keep in mind the following classification:
Hard Skills
They are specifically related to your career, although there are multiple variants in the case of an office assistant. After all, it is a profession that is present in many fields.
The most common assistants are the following:
Office automation knowledge
Logistics Control
Customer Support
Numerical ability
Legal knowledge
Bargaining power
Budget management
Psychological understanding
Analytical thinking
Soft skills
Unlike the previous ones, they are skills that are not linked to your career but to your professional profile. They consist of qualities that will make you perform well, regardless of the area to which you dedicate yourself. You can try these options:
Teamwork
Work under pressure
Proactivity
analytical thinking
emotional intelligence
Empathy
Attention to details
Reliability
Decision making
Entrepreneurship
Warning: Do not put all your skills on the resume, as it would look very saturated. Instead, analyze the job offer to determine which skills are most appropriate for the position.
Additional Sections for an Office Assistant CV
The additional sections are very appropriate to complement a resume and give an extra appeal to the presentation. These are some of the most convenient:
Languages
Volunteering
Certifications
Briefcase
Websites
Social networks
Presentations
Publications
Acknowledgments
As with skills, it is not a good idea to add all the sections, but rather those that suit the job offer.
Tips for Perfecting Your Office Assistant Resume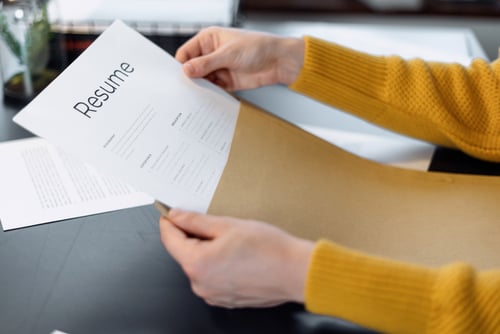 You already know how to write the best office assistant CV and can aspire to a position in any company. Now, if you want your CV to be attractive and motivating, these additional tips will be beneficial:
Keep the resume on one sheet
Discussing everything you have done as a professional in your CV is not a good idea. Keep in mind that recruiters look for candidates who are concise and objective.
Choose an eye-catching design
The style of the resume should be distinctive, professional, elegant, and attractive, making you stand out from the rest.
Take care of the structure
Avoid overly long paragraphs and excessive text blocks. Try to leave blank areas to make viewing easier.
Choose the ideal font
Use a font size of 10 to 12 points for paragraphs and 13 to 14 points for subheadings. Combine bold, italics, and underlining to highlight important points.
Use keywords
They are small phrases related to your profession. Use action verbs that relate to your administrative skills.
Mistakes to avoid
Writing a resume indeed seems simple, but in reality, it requires a lot of attention. Be careful not to make the following mistakes if you don't want to spoil your CV:
Using bad language
Informal or extremely fancy tones are not suitable for a resume. Try to be friendly, professional, and cordial.
Little relevant information
Filler data, such as personal information, hobbies, and non-work-related things, make your CV less attractive.
Lie
Although it seems obvious, the truth is that some candidates tend to place data that is not real. If you do and are discovered, you will be immediately ruled out.
Office Assistant CV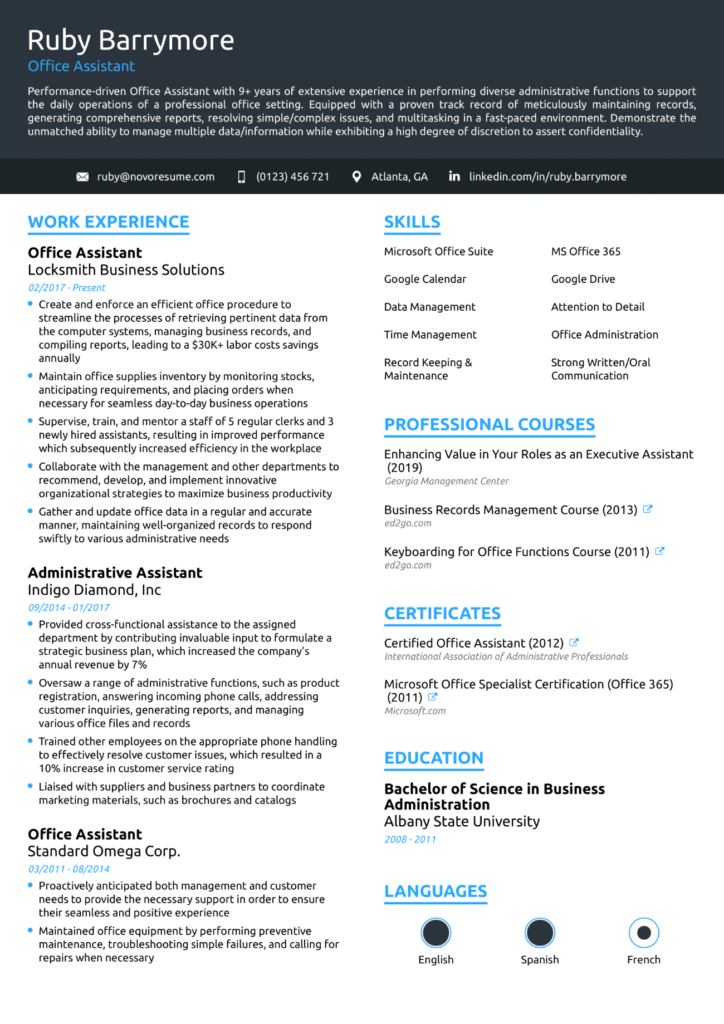 Don't forget to include a cover letter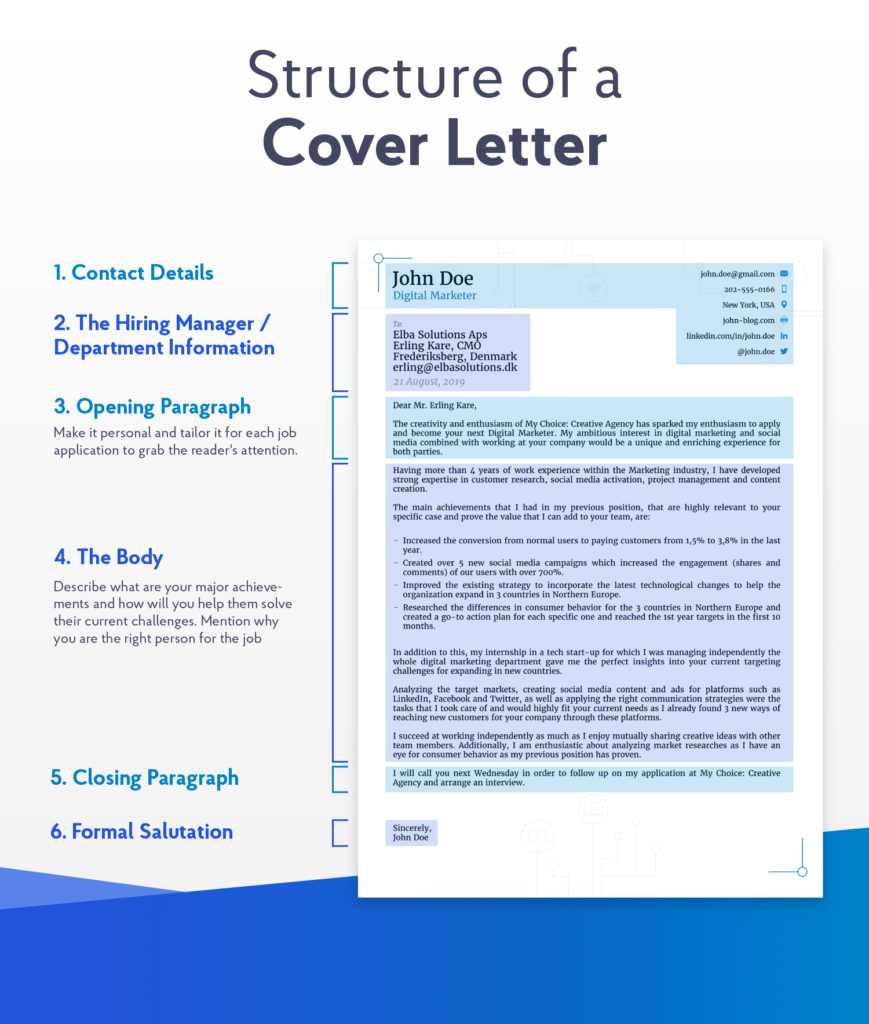 The cover letter becomes the ideal document to complement a curriculum vitae. It is a convenient resource to delve into information about your profession. You can explain more about your educational background, other jobs, and various skills and aptitudes.
The important thing is that you do not put data that you have already described in the curriculum because it would be repeated information. It is a tool that will make the company interested in you. Try to give it a different approach, so that the company gets the best first impression of you.
Read Also:
Cover Letter for Internal Positions or Promotions: Tips, Samples, and Examples-Drjobpro.com
Best Cover Letter Samples for 2023 (All Jobs)-Drjobpro.com
Office Assistant Resume- Conclusion
Administration is one of the essential aspects of any company, so you must stand out among all the candidates to be hired. It is a job that requires trust, responsibility, and efficiency. A good resume is essential if you want to enhance the chances of acquiring a job.