January 2022
07
Are you looking for ways to make money online, but don't know where or how to start? Are you overwhelmed by useless search results when looking for a job online?
Reading this means your problem is over. Together, we will learn several ways to earn money by completing simple tasks!
Yet, before we dive into the best ways to make money online for beginners or other professionals, remember the following:
Your hard work and effort are what qualify you to earn big money. You will not find a magician who will fulfill your wishes just by sitting in front of a computer screen.
Earning money does not come in the blink of an eye. You have to wait and see the results.
No app or video just downloading it guarantees you'll get the money.
You must explore your exceptional talents and utilize them skillfully, creatively, and by exerting more effort.
Now that we have laid the groundwork for making money from the Internet, let's start our content that might be the right start for you to earn more money.
Ways to Earn Money Online for Beginners:
Below you will read the following:
Top 7 ways to make money online for free
How to start each career?
How do you grow financially in each field?
Keep reading as the conclusion offers a great way to start making money online or even getting a full-time job!
Social Commerce: Monetize Social Networks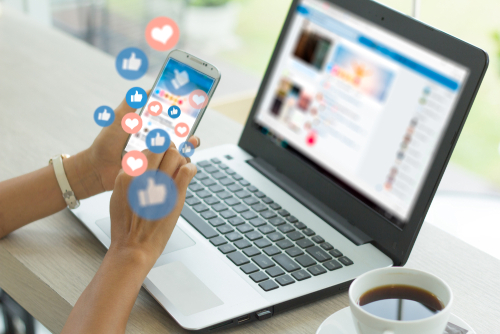 All of us have switched to buying online via e-commerce platforms, whether a website or a group specializing in selling a specific product through social networks.
Now we are spending our leisure time following the live videos of the "groups" of Facebook, Telegram, and others, and the salary runs out after 5 days of receiving it due to the online orders.
So, you can take advantage of this by starting your project online to have one of the many Instagram pages, groups, Facebook pages, or publish your products on free selling platforms such as Dubizzle.
There are many factors now that help you to start your business on the Internet with little money and make more profit, including:
The diversity of shipping companies led to reduced shipping costs due to competition.
The possibility of receiving customers at your home or meeting them in person to receive the product enhances your social relations.
So, How to Start Social Trading to Make Money from Social Networks
Choose a product and find the best suppliers
The first step to starting an online business is to identify the 'product' and how to get it so you can set a starting budget before you start. You can define the product as:
Look around and ask people you know who work in this field. You will be able to gather information about the product, its quality, its advantages and disadvantages, and the sources of obtaining it.
Follow the groups already on the Internet to understand what the buyers prefer and why and try to find suppliers and get them at the lowest prices so you can stand out from the competition.
Turn your talent into a job. If you are a master of handicrafts or accessories or a professional chef, you can turn your talent into a livelihood online.
Products you are interested in and have information about. Make a list of the most important things you buy often and are interested in gathering information about, such as watches or clothes.
Define your target audience
The "target audience" is the password behind every successful advertising campaign in marketing. And when you have decided to start a freelance business, you need to sharpen your marketing skills to learn how to promote your products.
After choosing the product, decide who you will sell it to? For boys or girls? For female employees or housewives?
Defining your audience helps you choose the "tone of voice" where you choose specific words and enables you to understand their requirements and needs, so you determine from which door you will reach them to convince them of your products.
Select your favorite platform
Each platform has its different audience, so you need to select your preferred e-marketing channel either as a "Telegram Channel," "Facebook Group," or "Instagram Page."
Then, start by writing "About your project:" What is the product? And the price list? Replacement and refund policy? And ways to communicate? You can put all the information in a post pinned to your page.
Get creative when it comes to marketing
Don't just put pictures of the products and copy and paste the written comment from the merchant as dozens of page owners do it. Find ways to stand out! For example, you can take a picture with your mobile phone to become customized for your page, or you can write product details in your own way and post the reviews of previous customers.
You'll find more ways if you put your mind to it and look around, where you'll find promotional methods that you may think are useless, but that is very useful for you.
Learn from your competitor's mistakes
Always keep an eye on your competitors' pages to identify and simulate strengths and weaknesses and address them in your business. For example, you may find that your competitor loses more customers by not placing the product's price in the post or late responding to people, which pushes them to deal with others or other problems.
Do not defraud and try to attract customers by bad means, such as trying to communicate with them to offer your services while communicating with the other seller. Keep your name and brand clean.
Here Are Some Quick Tips on Social Trading and Profiting from social media:
Don't rush results
Do not despair no matter how late it is to get your first customer
When you achieve profits, invest them for the benefit of your business, you can start a paid advertising campaign, for example
Define your audience accurately and don't target everyone.
Always ask yourself: How do I stand out from others? Determine the answer and start implementing.
Monetize Print on Demand (POD)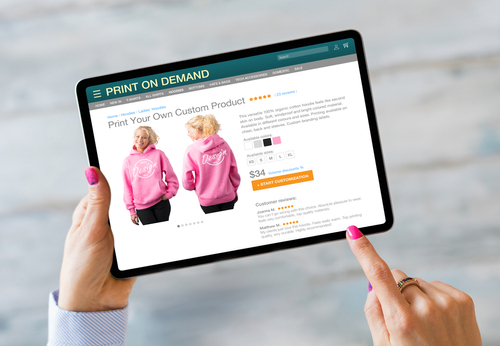 Print-on-demand is among the most important areas for making a profit online, especially for beginners. Print-on-demand is a business process in which the product is manufactured only at the customer's request, which enhances efficiency and reduces losses for companies and designers. This includes printing on cups, clothes, upholstery, bags, etc.
All you need is to choose the design, implement it and upload it to some dedicated site to attract the attention of people who prefer unique or custom-made collectibles.
So, How Do You Get Started and Make Money in The Print on Demand Business?
Choose a field
You have to follow the audience of print-on-demand platforms so that you can choose a field that will generate a lot of money for you. Some specialize in printing pictures of pets, and some specialize in printing quotes and others.
And you should be aware that most of the audience for these platforms are foreigners, especially Europeans. So, you have to understand their needs well.
Select your tools
No professional design skills are required. You can start with the most straightforward tools or even rely on free image sites like Canva to find images to make a few simple adjustments.
Among the most famous sites that are suitable for beginners to profit from this field are:
And if you are looking to make more profit, be sure to learn design and Photoshop skills through YouTube videos or follow influencers in this field on LinkedIn.
Here are some quick tips on making money in the print-on-demand business:
Keep honing your skills constantly.
Publish your work on professional platforms such as LinkedIn and social platforms such as Facebook.
You can collaborate with a beginner freelancer to produce more professional designs.
Take advantage of global sites such as Etsy or create your own site to publish and sell your designs.
Monetize Photography And Design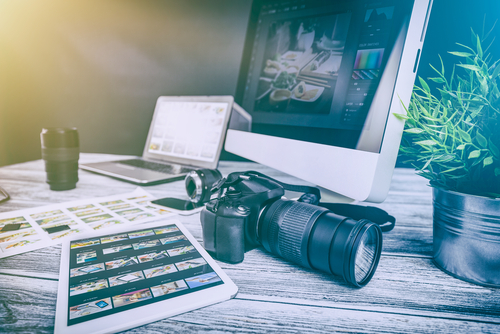 The field of design, or what is now known as "Graphic Design," is among the most popular fields now that you can earn money through.
All you need to get started in this field is a high-tech camera to take pictures and familiarity with the skills of dealing with design programs and Photoshop to modify them.
So, How Do You Get Started and Make Money in Photography and Design?
Gather information about taking professional photos
The Internet now makes it easy to find any information you need. All you have to do is watch videos of professionals giving beginners advice or read more about photography and design through blogs or professional posts.
Write down the information, don't rely on your memory, and decide what tools you'll need to get started: a mobile with a high-resolution camera or a modern high-tech camera.
Learn how to use photo editing software
As mentioned earlier, you can achieve this by doing a quick search on the Internet or downloading some free software and exploring and learning about its features. PicsArt and Lightroom are on top of these programs.
Take advantage of free photo sites
Some sites allow you to download images for free, and you can also make some adjustments to the images, such as changing the colors, size, and others.
Here are the best free image download sites that we recommend:
Here Are Some Quick Tips on Making Money from Photography and Design:
The more photos you post, the higher your income.
Understand how "keywords" are used in the image name and its alt text to ensure more downloads.
Post high-quality photos.
Monitor competitors and decide what photos people are interested in downloading.
Make Money Selling Courses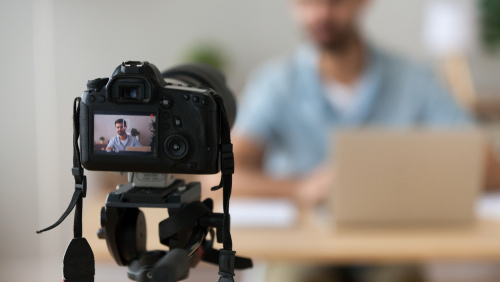 Recent global changes and life circumstances have prompted us to change our lifestyles; People tend to learn anything online (a language, a skill, or even a handicraft).
Platforms such as LinkedIn Learning, Udemy, and Coursera are essential platforms people turn to to learn new things. Browse these platforms, choose a field, decide what people want to learn, and start making your plan to record videos and publish them on all platforms to earn money as the number of views increases.
How Do You Make Money Selling Courses?
Decide what information you have that you want to pass on to others
Choose a field, for example, teaching languages, and start by defining the topics and location of the shooting, then post videos with attractive titles such as "Teaching English for Beginners from Zero" or "Who Wants to Speak Like a Native?"
Choose a platform and analyze its content
The Udemy platform, for example, may include a lot of language-related training courses that are presented by professionals and transfer all their experiences, which means that competition is challenging. So, find another platform where you can shine.
Start recording professional training courses
Before recording videos, research how to choose the best shooting location, camera position, and other factors, prepare the place and start recording.
Here Are Some Quick Tips on Profiting from Selling Courses:
Start your content from scratch to attract beginners and feel the evolution with every video they watch.
Choose attractive titles and briefly summarize the video content in the first minute to capture the viewer's attention.
Publish your content for free initially as a form of marketing and prove your worth.
Find your target audience and be present wherever they are.
Make Money Publishing Your Articles on Blogging Platforms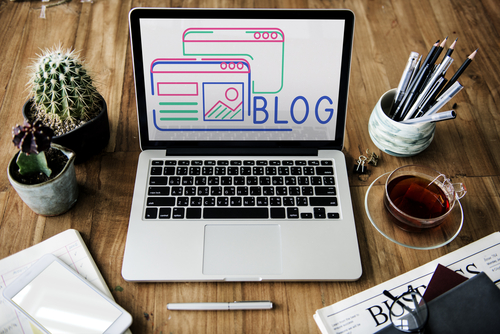 There are many blogging platforms, and one of them is Medium which enables you to get paid for your articles, and the more times people read your article, the higher your profit rate you get.
If you are writing exclusive and professional English articles, you can take advantage of the feature of viewing exclusive articles on the platform and display your articles to subscribers only, which guarantees them a significant profit.
How Do You Earn from Publishing Your Articles on the Internet?
Choose a blogging platform and create an account
Search for topics that suit you and find what attracts the reader's attention from different ways of writing (personal experiences, facts, or case studies).
Subscribe to the package that suits you
Publish your articles on social media platforms and inquiry platforms such as Quora.
Here Are Some Quick Tips on Making Money from Publishing Your Blogs on Blogging Sites:
Choose a specific field and target a particular audience.
Keep writing and learn new skills
Take advantage of your articles for commission marketing, where you can write for another website or about a specific service
Make Money Signing Up for Freelance Websites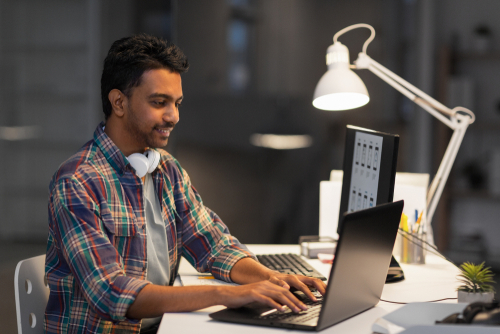 Remote work and freelance patterns are now the new normal as CoronaVirus has forced us to work from offices to work from home or from anywhere to maintain social distancing.
So, you can take advantage of new work patterns and start a career, perhaps far from the job you are working in now, where you can start in many fields, the most famous of which is writing, design, programming, information technology, and many other endless fields and specializations.
This is where we come in to provide you with a high-tech platform that specializes in connecting professionals and business owners to get tasks done either on a full-time basis or as a freelancer.
Read here to find out more details:
Make Money with Affiliate Marketing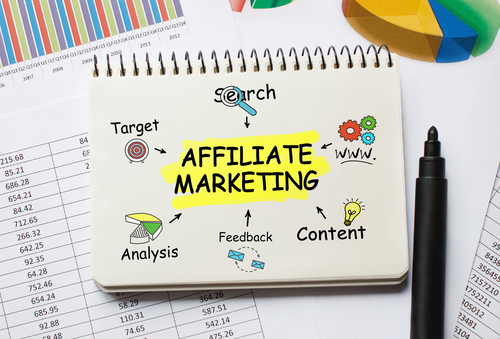 Affiliate marketing is how a person earns a commission for marketing another person's or company's products. Sales are tracked via affiliate links from one site to another. The ally simply searches for a product they are interested in, then promotes that product and earns a portion of the profit from each sale they make.
And here you can read more about affiliate marketing:
10 Amazing Types of Business You Can Build After 6 p.m.
Finally,
You can profit from the Internet in several ways, most of which we mentioned above, and we will write in detail about each of the above fields in our upcoming articles.
For more information to achieve the best possible experience when working online, also read: