March 2021
13
"To win the marketplace, you must first win the workplace," How could you achieve this in the high-tech market?
To build a successful business, human, not financial, capital should be your start point. Nothing you do is more important than hiring people. At the end of each day, you bet on people, not strategies.
In light of this, Drjobpro continues his "Free-of-charges" support to all employers and project owners by offering a new HR toolkit.
In other words, we've taken care of the automation of your HR department. Choose what you require—a job description, a recruitment tracker, employee engagement strategy, or performance management kit. Then focus only on what expands your business: finding, recruiting, and attracting exceptional talents.
Drjobpro New HR Toolkit
Don't start from the beginning. Our HR templates are ready to use, lined up, organized, and prepared for action. So if you need a performance management system or records and formats for your business, we can help.
HR guides with practical assistance
When you start thinking about "hiring," many questions pop into your mind: It could be something like "How can I write an SEO friendly job description" to "Where can I post my job ad" or "How can I convey my company's culture in the description" We're here to help! Our HR guides offer comprehensive solutions, allowing you to attract and retain top talents.
Glossary of HR Terms
Do you know who is the "ghost employee"? Do you hear many new terms in the HR industry? HR vocabulary varies regularly. Keep up with these terms with our veteran HR leaders, whether you're a new or a pro HR professional.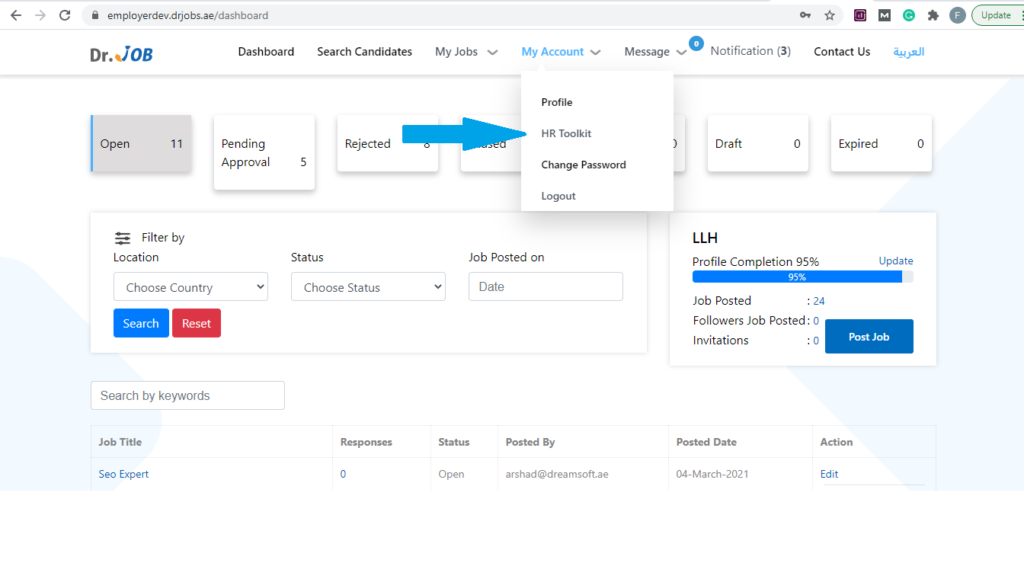 What's in Drjobpro New Toolkit Bag?
If your business needs any HR Templates, you'll find them on Drjobpro:
Hiring Module
Onboarding Kit
Employee Policies
Performance Management Kit
Exit Process
Employee management systems
Records and Formats
Job Descriptions
Recruitment Module
Statutory Module
Let's Walk the Walk Together!
Drjobppro helps businesses of all sizes by providing recruitment solutions. To learn more about how Drjobpro will help you find and recruit awesome people, register now and post a job for free: https://employer.drjobpro.com/en
While Registering, you'll enjoy:
Making the workplace a comfortable and stable environment.
Reducing your HR expenses by 50%.
Increasing the productivity of both you and your staff.
Ensuring that all HR procedures are 100 percent standardized.
Building a bond of loyalty with the staff.

For a dream career, click here