March 2021
13
The tech world is in a constant progression towards innovation and a never-ending search for means to simplify the accomplishment of tasks.
Initially starting as a job search platform, Drjobpro today is expanding its area of operations to become an all-in-all comprehensive resort and professional service provider in the recruitment sector for Job Seekers and Employers alike.
Check out what the Drjobpro Employer Panel has to offer you today from newly added features such as The Messaging System to useful Employer Toolkits. Each kit and module contains numerous useful templates to help you as an employer in hiring the right candidate for the job, hassle-free! 
In addition to our user-friendly messaging feature from Drjobpro, we pride ourselves and what we do in providing and fueling recruiters with the right kits & modules to make their life easier. 
What Does Our Recruiter Toolkit Offer You? 
As a service provider for professional hiring and recruitment, equipping recruiters with the most useful modules and tools to thoroughly complete the hiring process of potential candidates on Drjobpro.com is profoundly important to us.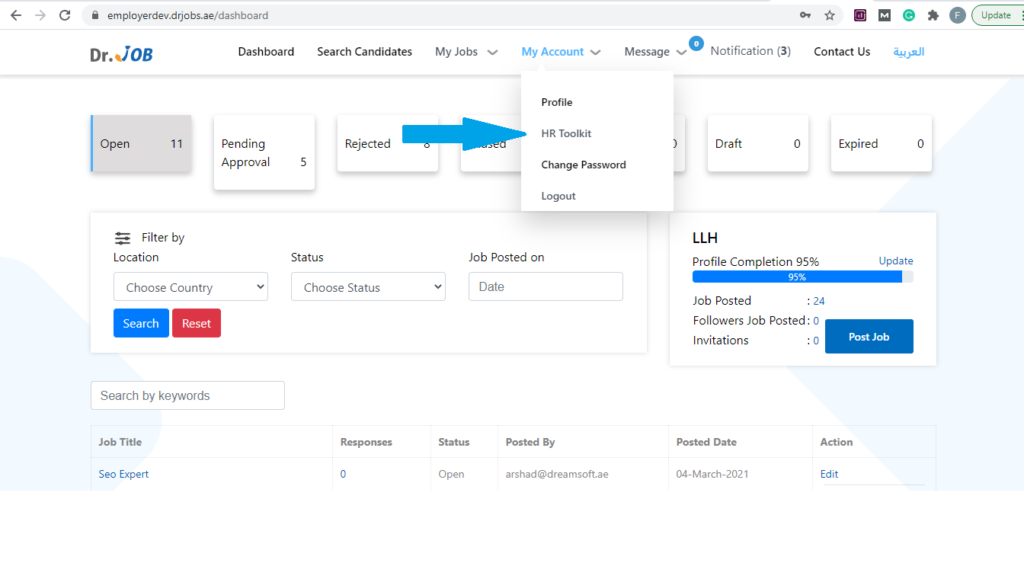 With the Recruiter HR Toolkit at your disposal composed of 10 comprehensive modules and 350+ free templates to download and use forthwith, you will be completing the whole hiring process and beyond-employment necessary paperwork with utmost ease, as it provides you with the following modules: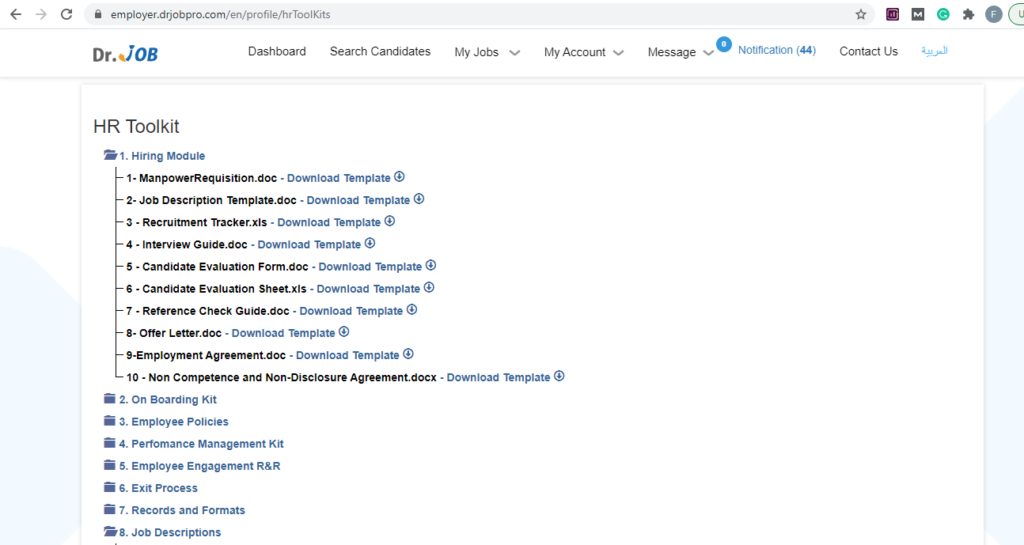 Hiring Module: Contains all the necessary templates that an employer would need to start the hiring process from Manpower requisition to employee evaluation form to Non-competence & Non-disclosure agreement.


On-Boarding Kit: Once your new asset has arrived to join your company's workforce this kit will offer diversity in giving you time-efficient welcoming options such as New employee induction to new employee announcement email and much more.


Employee Policies: Mandatory policies placed by law for all companies are listed thoroughly in this module to help you run a business with an ethical and clean environment for your employees.  


Performance Management Kit: Monitor and evaluate your employees' productivity with all the substantial forms this kit offers you at ease.


Employee Management R&R: Give your employees more incentives with this module that paves the way for you to run Employee of the month nominations with a policy template.  


Exit Process: Don't have time to deal with incidents like employees retiring or finishing laid-off employees' paperwork? This module will provide you with all necessary templates to ensure your HR team is operating as expected.  


Records and Formats: Issuing a warning to behavioral misconduct employees or to those who have violated other terms within the organization requires formal and professional letters and procedures, find it all here in the Records & Formats Module. 


Job Descriptions: No matter what business or entity you are running, with over 100+ different job descriptions you'll be posting job openings within your firm easier and more professional than ever before. 


Recruitment Module: Job posting on Social Media platforms has gained huge popularity and is a thing now. This module offers you templates for the right way to post a job for every platform out there, in addition to sourcing templates.


Statutory Module: Professionally complying with the law is what this module offers you, from health and safety obligations to taxations for your employees' income and informative documents for you and your employees if working in the UAE. 
To access these modules and the related ready-to-use templates at any time, Register today as a recruiter on Drjobpro.com for free! And enjoy a full hands-on experience of prompt HR management.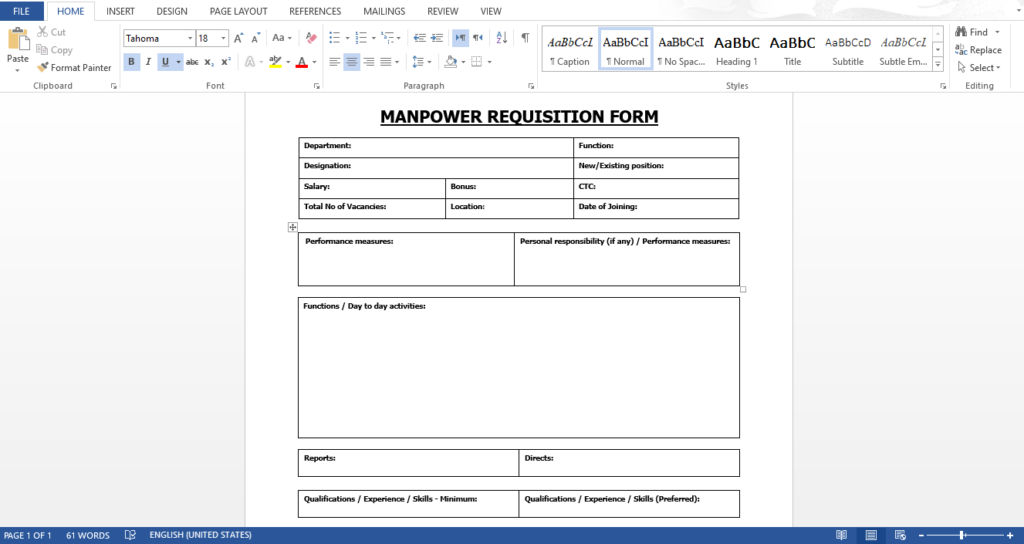 Leave the HR paperwork to us and focus on what generates you revenue!  
To register your company and starting employing, click here