March 2021
11
In today's fiercely competitive job market, employers struggle to reach the top candidate who can add value to their businesses. They are searching for top-talented applicants in a job market full of thousands of job seekers searching for jobs.
So, once they post the job posting on their company website or social media platforms, the recruiter starts to receive an untold number of messages from candidates, either applying for the job or asking questions.
For the job seeker, applying for a job in any way except for the emails is unprofessional. For recruiters, it's a headache that they don't have time for it.
What if I told you that Drjobpro is offering a "Messaging System" that helps the recruiters reach you instantly and decide whether to hire or not hire you?
Do you imagine how easy & quick will be your hiring process? Wait a minute!
Replying with messages like: "I'm ready to join immediately in any position," or asking "how much is the salary?" as a first question will cost you the job.
In this article, you'll learn how to pave your way to success with hacks for text messaging with recruiters.
Tips for text messaging with recruiters
Text communication presents particular difficulties because the format requires that one be concise and to-the-point by its very essence. How can you make sure you can express yourself confidently in a text message like you do in an email or on the phone?
Reply as a Pro
Be professional while talking to the recruiters, whatever the interview type. Learn the business writing principles to stick to formal language while texting the potential employer, as this shows how perfect you're to get the position. Focus on the nitty-gritty approaches that secure you a job.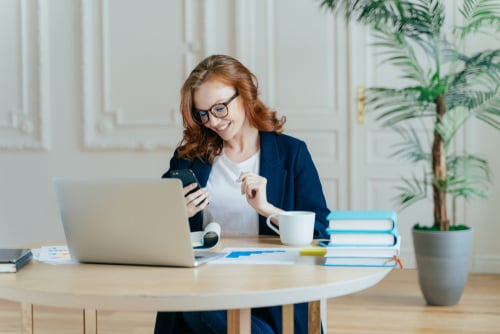 Stick to Formal Standards
Your text message should be as accurate and well-written as any business contact with someone you don't know too well. Think twice about the vocabulary and phrasing after a recruiter has established that he or she wants to communicate through text.
Write the full word. Don't abbreviate
Don't use emojis
Use a professional Signature
Check the pronunciation, grammar, and punctuation, and keep an eye out for autocorrect mistakes.
Reply to a recruiter within regular business hours.
Highlight Your Credentials
Although you've to keep your message short, you should also highlight your strengths "selling points" that will help you sell yourself as an employee to the company.
Express your excitement about the opportunity.
Mention the skills or expertise that make you a good fit for the job in a few sentences.
Check if you're submitting the message to the correct person before pressing the send button.
Reply Instantly
Being ready to reply to the recruiter's message is one of the skills that every company looks for "Communication skill." Understand the recruiter's message well and respond to the point. Regardless of the communication channel, your first interactions with a recruiter can demonstrate that you know how to conduct yourself professionally.
Facts about Text Messaging in Recruiting:
According to Jobvite's 2018 Recruiter Nation Survey, 43% of recruiters have texted work prospects, with 88 percent reporting favorable applicants' responses.
Some companies hire candidates for their "texting skills" as their entire work depends on messaging like Emsisoft Company. Any businesses also manage the whole operation by text messages. "We've been a truly remote organization for 15 years and have always interviewed via text," says Christian Mairoll, CEO of Emsisoft. There will be no face-to-face interviews or even phone calls. Only text is available. And we believe this to be very advantageous.
The advantages of "Text Messaging" for job seekers:
Mairoll also added that theText-based interviews are less distracting and allow candidates to speak without the performance-impacting anxiety that some of them face during other types of interviews. This gives a chance for the candidate to be himself.
Text Messaging Interviews also provide a chance for a bias-free interviewing process.
Finally, it's the perfect time for polishing your "texting skills," so this will be the coming trend in the job market. These skills will ensure your seriousness in sharpening each skill to be the qualified veteran who seize the opportunity and get the job.
Now, can you share with us the comments about your experience as any recruiter tried to reach you via text messages before?