March 2021
27
Many sales professionals today are making hefty amounts of earnings, is it their base salary or commissions generating them that income?

Jobs in the market across all sectors can take many forms and structures of employment, some could be paid on an hourly rate, others can be paid out to employees as a commission, salary plus commission, and commission with bonuses. The Sales Agent position opens doors to all these kinds of career paths.

Bonuses and Commission shall not be confused with one another, as bonuses are not planned and can be subjective to employers as to whether to reward their sales employees for the contribution they make in selling a product, service, or even closing a meeting with customers or not.

On the commission structure side of things, it can be considered as a lucrative line of work, provided you meet the threshold of sales target for the month or week, or even for daily targets. 
Types of Sales Agents based on how they get paid:
Pure commission-based sales agents
Salary plus commission
Salary plus bonus
With that being said, sales agents can have the freedom of choice when it comes to generating sales for their companies, some might attain a profitable job when working by commission.

Whereas, the rest of the sales agents can find it a stressful way of making a living because of the uncertainty of making a good income by pure commission. Rightly so, it extremely depends on your hard work and performance. So there is no time to waste!

What Are The Advantages of working as a Sales Agent?
If you are an enthusiastic individual with the drive for meeting your goals before a certain deadline, then you have an edge over your peers. As working in this type of work demands an outstanding sales performance that solely depends on your efforts. 
Work-Life Balance - This work line can also provide you with the ability to strike a work-life balance if you choose to make it your main source of income. Unlike a 9-5 grind, working as a commission agent can feature significant flexibility.


Dynamic Way of Work - During pandemic days and the crisis we're living in, many companies are laying off their employees to cut down costs or moving them to take the remote work stance.

Working as a sales agent will make a great option, as you will be to amend your work contract if you choose to stay with a company that specializes in sales and they are taking such measures.

It is a bright idea to rearrange your contract of employment; as sales jobs give you the luxury of working remotely without the need to be present at your concrete office. Additionally, pure commission-based contracts are a way to keep you in the business and avoid being laid off. 


Bonuses Will Motivate You - Getting rewarded for your extraordinary performance is surely a great motive to keep you achieving great results, and this is what makes this career stand out from the rest. Impress your employer with the number of sales you've made, and a bonus is most likely coming your way.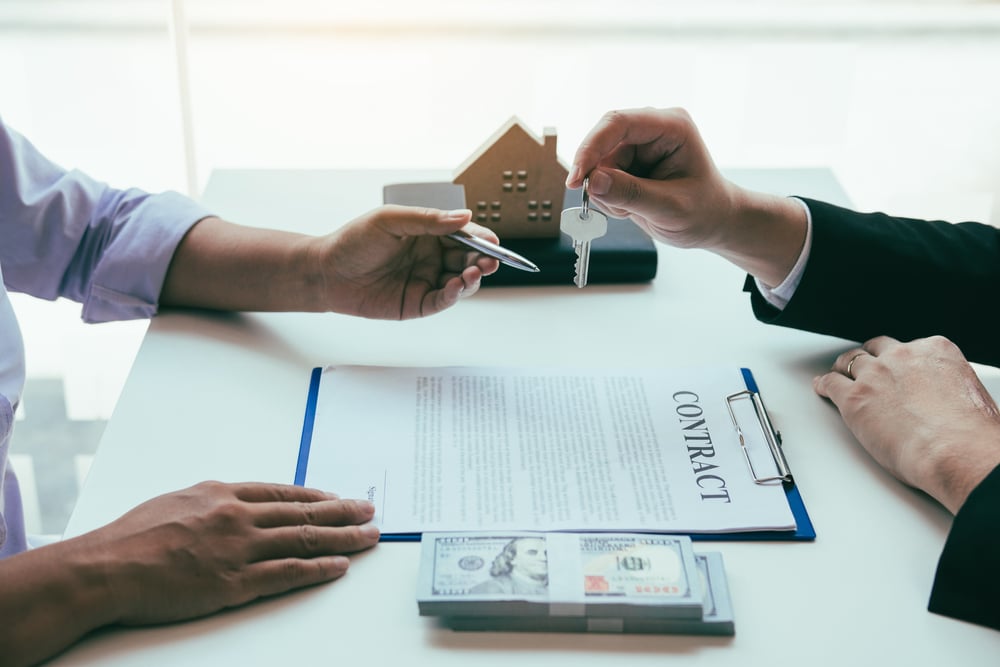 Main Takeaway: Focus on jotting down all your potentials and strengths and be honest with yourself regarding whether you can do sales work or not.

It's highly subjective and not for everyone. Besides, it will require all the energy and hard work from you, as you are the only key player that can make it or break it.
Which Countries Offer Higher Salaries For Sales Agents?
Just like all other jobs, the paycheck you'll receive will be different, so is the location factor, location of work plays a major role in defining your salary range and what you could be earning every month.
Some sales agents can be earning more than others on a monthly average in various locations. As countries' minimum and maximum wages vary significantly, although they might be of an equivalent experience level.
To clarify furthermore, the following infographic displays the average monthly salary of a sales agent in multiple Arab countries: Jordan, Egypt, United Arab Emirates, and Saudi Arabia.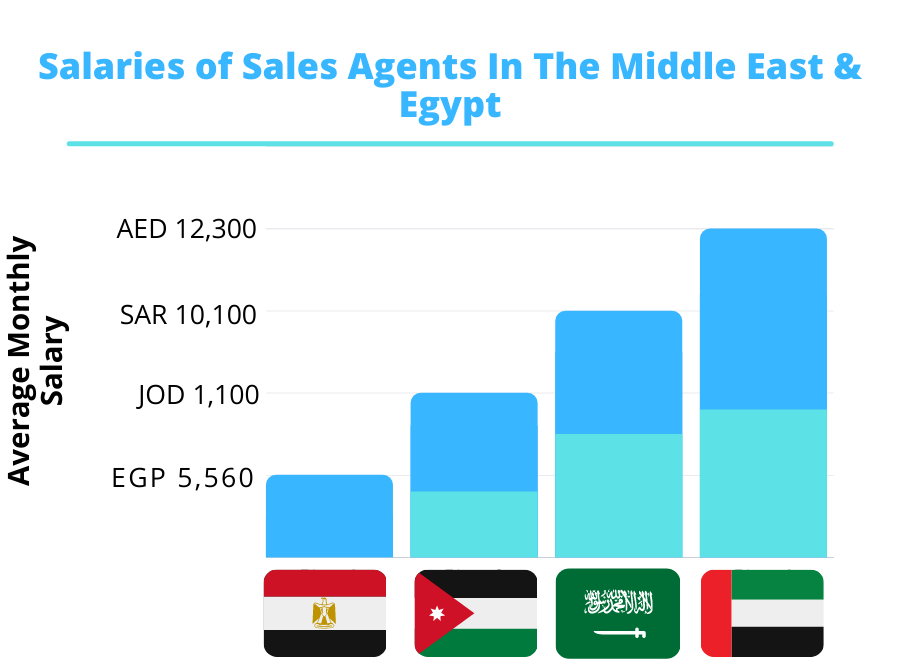 By looking at the data from the chart table, we can come to realize the gap size between those countries in terms of the average monthly salary of a sales agent.
Keep in mind, these statistics are merely to outline the salary-based jobs in those countries within the Sales Agencies space. (Commission-earnings fluctuate greatly even within the same country and are not location-related.)
Life's quality and expenses are some of the main contributors to the expansion of this gap between average monthly salaries in each country shown above.  
It's also crucial to understand the significant impact of adding the experience factor to the equation, as moving higher on the career ladder in the sales industry relies greatly on the years of experience you have in the field.
Which industries offer a sales agent position?
Insurance Sales - Consisting of (Health, Life, and Property) types of insurance, and your job as a sales agent will be to advise clients which insurances they should get.
Explore Insurance sales jobs today.

Travel Agency - Travel agents have daily tasks concerning booking, advising, and selling travel deals and packages to travelers. Your commission/salary will be earned upon closing travel deals with clients when they purchase a travel package.
Explore Travel agencies hiring today.

Real Estate Sales - In this type of sales job, individuals will be advising clients when it comes to buying, renting, and selling property.
Explore Real estate sales jobs today.
Now, after mentioning all the benefits you'll be enjoying when working as a Sales Agent with a monthly salary or commission-based contract, on the contrary, there are some disadvantages which can make this type of work challenging for some jobseekers.
What Are The Disadvantages of working as a Sales Agent?
Lack of steady stream of income - A day in the life of a sales agent can simply be second to none, as working days tend to be selective, compared to other jobs' schedules.

Moreover, earnings depend greatly on the amount of work you put in each day, so practically, the days you tend to work less than others will cause your sales to go down.


Less possibility to be granted a loan by the bank - Due to the nature of commission-based jobs, your income is not a steady one, and salaries are not guaranteed to be at a specific amount at the end of the month. Hence, this could become an obstacle for you when needing to take out a loan from a bank.

As banks traditionally require consistent paycheck evidence from individuals to grant them loans, which makes it a daunting experience for someone working on a commission type of job.


Absence of a Boss to Monitor Your Work - If you choose to work as a sales agent paid by pure commission, you're the boss of yourself, and that requires high levels of commitment. Given that you're not monitored, or your work is not revised by a boss.

This can cause you to slack during days where your paycheck is weeks away and have all the workload through at the end, a few days before the clearance of your paycheck.
For a dream career, click here