October 2020
04
Let's assume that you're Elon Musk, one of tech history's most prominent pioneers whose career encompasses two decades of successful global contributions. Through many leading startups and inventions from the high-performance electric car (Tesla), automated online payments (PayPal), space exploration (SpaceX), invigorating the solar-energy market to neurotechnology (brain-chip). You'll not require any introduction; just saying your name will open many doors in the world.
Elon Musk revolutionized, developed, and improved many industries.
For so many successes and past experiences, to record them all, one would be right to believe that you would need dozens of pages, right?
Interestingly, Elon Musk's resume proved the idea of "Less, is Better" that recruiters and employers ask for while receiving job applications. It has Elon Musk's professional experience on a one-page design by creative concepts and guidance from recruiters.
The resume below isn't the actual resume of Elon Musk. Yet, the resume-writing company Novorésumé dreamed of showing how even the most prolific and complicated promising career can be condensed into a single page. It managed to list all of Musk's skills and accomplishments by using intelligent design and precise words and still has room left over for passions and hobbies.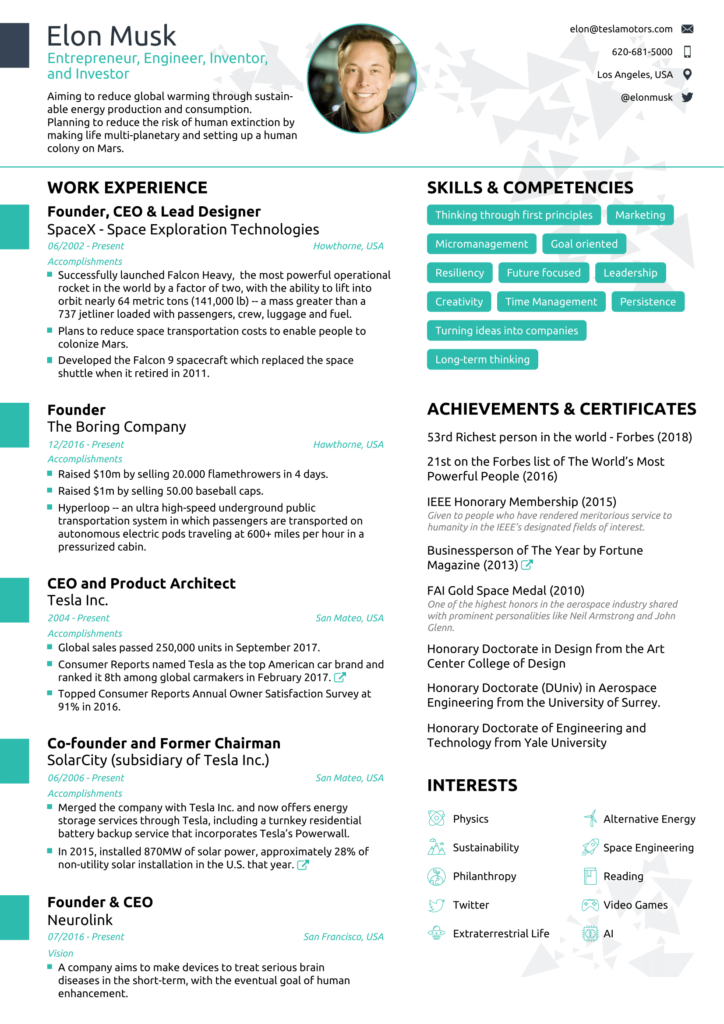 Mirror Elon Musk's resume (professionally, not literally)
Now, this resume has a few ironic features that you shouldn't use with your own resume. For example, one of Elon Musk's skills is "micromanaging" in the list of "Skills and Competencies."
Musk is known for his lofty aspirations, and he has a reputation as a tough manager to work for. He once described himself as a "Nano-manager," indicating he's much more controlling than a micromanager.
Musk explained his management style, saying, "I have OCD on product-related issues. I only see what's wrong. I never see what's right. It's not a recipe for happiness."
This résumé also includes some skills listed that may not meet your skills. You have to reconsider that suggestion before adopting it.
Still, it's proof that you'll never need more than one page for a resume with the right design.
How to Get a Job With Elon Musk's Impressive One-Page Resume?
The career of Elon Musk is remarkable enough on its own, but this resume sheds a spotlight on his most noteworthy achievements. It achieves this by using three simple strategies that anyone (even though you're not a real-life Anthony Stark "Iron Man") should use to boost their resume:
Quantify your achievements
Make sure to include figures on your resume to highlight your strengths to employers and what you are qualified to do.
For example, his resume didn't only mention that he increased revenues, but it backed this up with hard numbers.

Create a "Relevant Experience" Section
Your resume's goal is to highlight your achievements and show how you will be a valuable asset, not just an ordinary employee, don't just mention your career history.
List all previous experience that is relevant to the position you are applying for.
For example, if you are applying for a social media manager position in an Arab country, the time you spent translating for a translation company is the best to mention in your resume.
Start with a catchy summary
Start with a "Hook"- a resume summary highlights the most noteworthy successes and skills relevant to the position, intending to encourage the recruiting manager to continue reviewing the resume.
In the abovementioned example, the summary of Elon's resume includes a rapid recap of his career accomplishments and links those accomplishments to his long-term objectives.
Although colonizing Mars may not be one of your career ambitions, you can also have a sentence in the description of the resume describing why you are passionate about the role you are applying to fill and how that enthusiasm can help you achieve your long-term goals.
Now, it's time to recognize that no matter how much your achievements, you can use powerful keywords and catchy design elements to bring work, passion, and personality in one page only. Are you ready to get a job with Elon Musk's Impressive One-Page Resume?