February 2022
11
Skills that Best Waiters and Waitresses must have - There will be an increase in the need for waiters and waitresses as the hospitality business steadily recovers as we reach the much-anticipated end of the pandemic.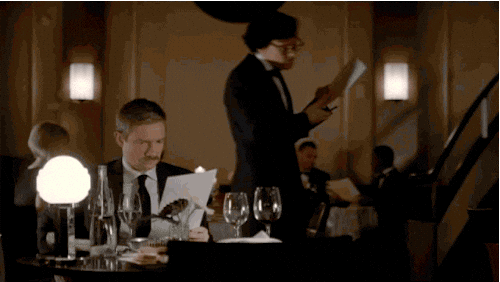 Undoubtedly, skilled waiters and waitresses are essential to creating a remarkable dining experience, no matter what type of establishment you're at.
Also, a restaurant's efficient meal delivery relies heavily on its wait staff, who play a crucial role in listening to and responding to guests' needs.
Dr. Job Pro is here to help you exceed your supervisors' expectations by showing the best waiters and waitresses' essential skills.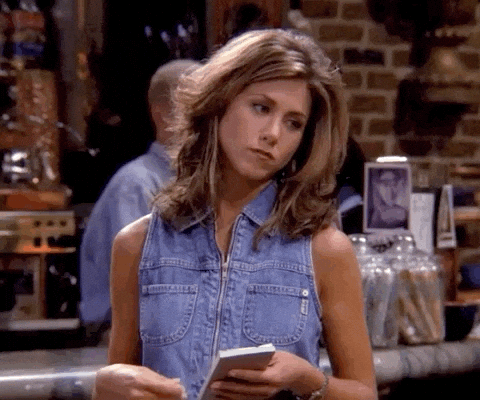 So, what skills are required to work as a waiter or waitress?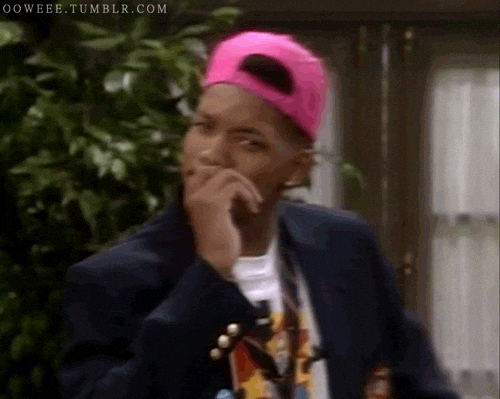 In general, waiter/waitress skills include accurately taking orders from customers, securely handling food, and providing excellent customer service to the public.
Perform work obligations and ensure client satisfaction by using a combination of hard and soft talent.
Moreover, your success as a server depends on your ability to communicate effectively with customers.
When it comes to being a waitress, you'll need to be good at communicating, prioritizing, and providing excellent customer service.
Eventually, some challenging skills include running point-of-sale systems, proper food handling practices, and the ability to count and compute change.
1- The Ability to Handle Conflict Effectively
Basically, you may record the order inaccurately by accident.
Alternatively, the kitchen may get disorganized, meals may be delayed, food may have become cold, or the consumer may have been entirely disappointed or offended by something else.
Conflict does occasionally erupt among diners, despite the general politeness of the establishment's patrons.
Even when dealing with a more aggressive customer, a top-notch waiter or waitress can neutralize the situation and maintain composure.
Furthermore, It's common to apologize for any mistakes you or the restaurant have made and offer suggestions for fixing the problem following the restaurant's regulations.
2- Preserving the Quality of Food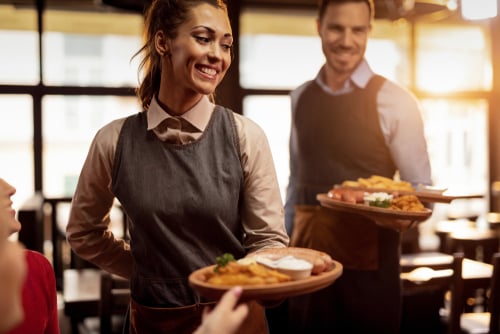 Generally, a waiter or waitress' principal duty is to guarantee that the food they serve is safe to eat.
This competence indicates your awareness of safe food handling techniques and your dedication to your client's health and well-being.
Besides, cleanliness and sanitation protocols and knowledge of business policies pertaining to safe food handling are all part of this process.
There is no need to include this in your resume's skills section; it should be included in your employment history.
3- The Art of Multitasking in a Fast-Paced Environment
In general, you may have to deal with multiple tables at once, and waiters may ask for additional sauce or a drink order as you walk by.
On an average shift, a server will be responsible for between five and six tables in a seated, albeit casual, restaurant.
As a general rule, a waiter in a high-end restaurant will serve three to four tables per shift.
Additionally, the best writers can keep track of their diners' orders and fulfill them logically to guarantee that everyone is as satisfied as possible.
This work environment typically results in people running from one duty to the next without pause.
Thus, time management has become a primary responsibility.
4- Effective Communication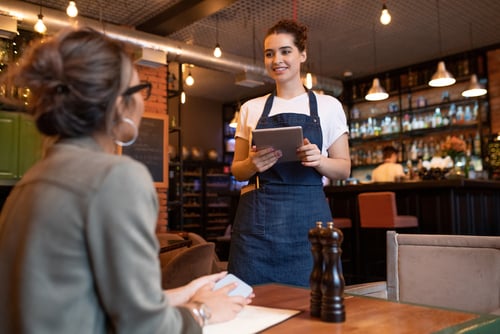 Obviously, practical communication skills exhibit the capacity to convey thoughts and information verbally or in writing to others so that they can comprehend.
It also means making sure that others comprehend what you're saying in the way you intended.
Moreover, this ability is critical to ensuring that guests know the menu, beverage pairings, and available meal substitutes.
Also, make sure you can accurately record customer orders, which may require clarification, summarising, or paraphrasing orders to verify they are correct.
Finally, to appropriately interact with the kitchen staff and answer any queries about orders, it is also necessary to have solid communication skills.
5- Teamwork Skills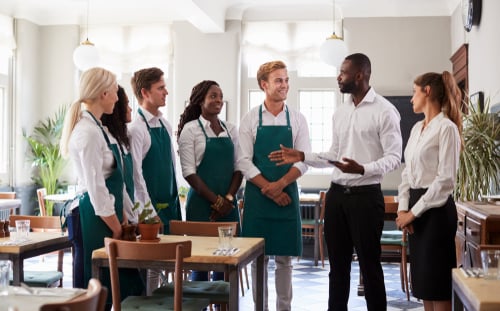 In most restaurants, you will not be the only one dining there at any given time.
For a smooth operation, waiters and kitchen workers must work together.
Read also, 6 Ways to Improve Self-Motivation Skills before Graduation
As your career progresses, you'll need to learn how to successfully delegate when your plate is already full and how to lend a hand to those who are in need.
Additionally, you'll be expected to follow kitchen orders and interact with them.
If you want to succeed as a waiter or waitress, you need to be a respectful, capable, and friendly coworker.
6- Active Listening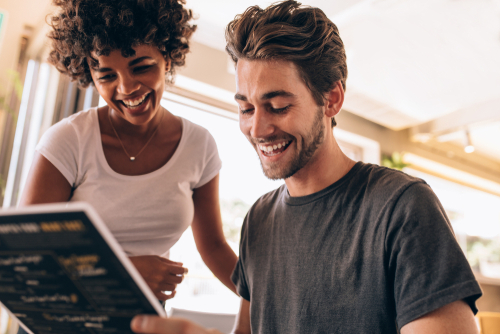 The ability to listen to people to understand and without being distracted by external or internal variables is called active listening.
You can do this by asking for clarification, summarising, and paraphrasing the customer's requests to make sure you fully grasp them.
As a waiter or waitress, you must keep your focus on your customers and not get distracted by other noises or distractions in the institution. This skill is critical to your success.
It shows that you value your relationship with the consumer and are committed to meeting their needs by interacting with them and listening to what they have to say.
In addition, servers frequently do multiple tasks at the same time.
You can provide your whole attention to the customer you're serving without being distracted by other open jobs requiring your attention when using active listening.
7- Having an Enthusiastic Character
There are things you may do to make a favorable impression on your customers.
There are a number of ways to show good interpersonal skills, such as making eye contact, smiling, and going the additional mile to help.
Although it may not appear to be a skill at first glance, but rather a personality quality, how you communicate with clients is something you can teach and practice.
Aside from being polite, you also need to show excitement and bring energy to the table to succeed in this field. Smiling may go a long way in customer service at a restaurant.
8- Using Positive Language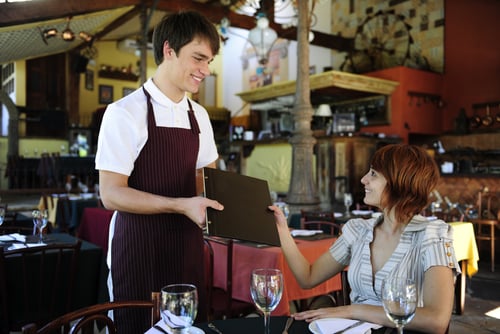 As part of using positive language while dealing with customers, be sure to let them know what you can do for them.
How you say things and convey information is an integral part of this skill.
For example, if a customer requests a certain substitute that the restaurant does not have, instead of telling the customer you cannot fulfill their request, provide possible alternatives.
A clear emphasis on customer service is essential to make it clear that you are available to help.
The use of positive words can help improve a customer's experience and assure their contentment with the service provided.
9- Making Quick and Informed Decisions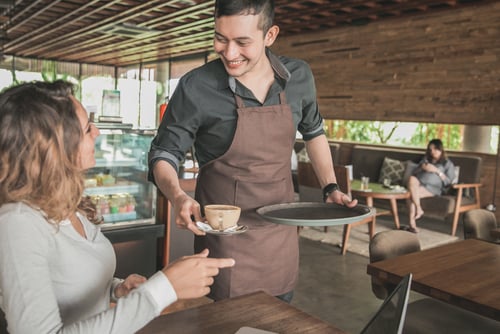 At restaurants, it's not uncommon for something to go awry.
When you're at the front of the house, you'll be expected to make rapid and effective decisions.
One consideration in risk management or deciding on the best course of action may be whether or not a menu item is out of stock.
Moreover, the best waiters and waitresses can't get sluggish in this fast-paced workplace and succumb to uncertainty.
Instead, fast decision-making is essential.
10- Problem-solving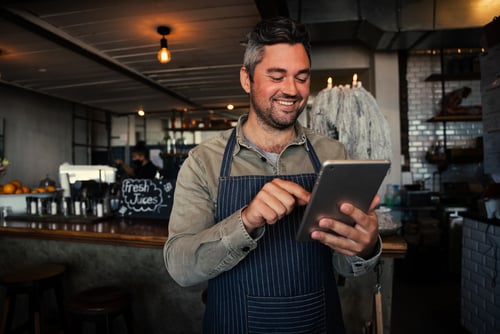 The capacity to solve problems to benefit the customer and the business is referred to as problem-solving.
Moreover, recognizing a problem, figuring out what can be done, and giving the client options are all part of this process.
As a waiter or waitress, problem-solving may include providing options for meal substitutions or tailoring orders to match the customer's dietary requirements.
In addition to that, if a customer is dissatisfied, you can work with a manager to offer a discount or gift card for a subsequent visit.
Finally, working with others to find the best solution for everyone and creating a pleasant experience from a difficult situation is an essential part of problem-solving skills.
11- Intuitive Social Awareness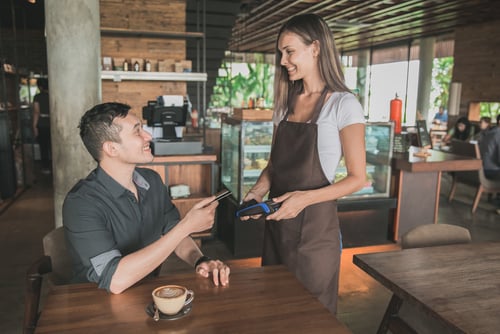 It is essential to be socially observant to see and understand the reactions of others. Customer satisfaction and future demands can be gauged using this talent.
Furthermore, waitresses who possess social perceptiveness may detect when a customer needs their attention and gauge their reactions, including how satisfied they are with their meal, beverage selections, and the whole dining experience.
Understanding others' reactions allows you to adapt your service style as necessary so that the consumer has a positive and memorable experience.
12- Endurance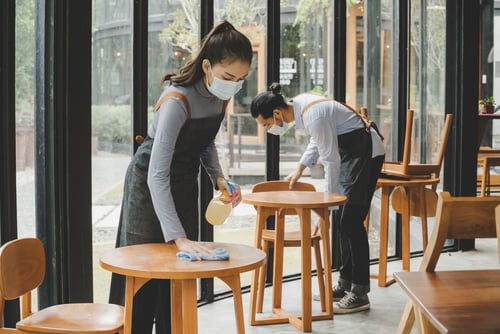 Firstly, to be resilient, one must deal with adverse situations and yet deliver high-quality service to their customers.
Furthermore, when dealing with many customers or customers who are very difficult to please, this is an essential skill to have.
Every day, waiters and waitresses come into contact with a diverse range of people from all walks of life.
Also, some situations may be beyond your control as a waitress, but it's still crucial to provide a great customer experience.
Moreover, resilience is a vital skill to ensure that a complicated scenario with a client does not negatively impact the great experience of another customer.
Obviously, the ability to multitask efficiently in a fast-paced restaurant atmosphere requires resilience.
There are no emotions of overwhelm or exhaustion as long as you use this method.
Eventually, having a high level of resilience helps you maintain a positive outlook and believe that you can achieve a positive conclusion in the face of flawed individuals or situations.