March 2023
14
Accounting is a field that requires a lot of precision. With this in mind, it's not surprising that an accountant's resume needs to reflect this attention to detail in every section to be successful and move on to the interview phase with the recruiter.
Related Articles: 24 Accountant Interview Questions (With Sample Answers E-Book)|Drjobpro.com
However, writing a resume for an accountant is not as complicated as it seems. In this guide, we will explain step by step what you should do and provide you with several examples so that your CV for an accountant is truly impressive.
Accountant CV Sample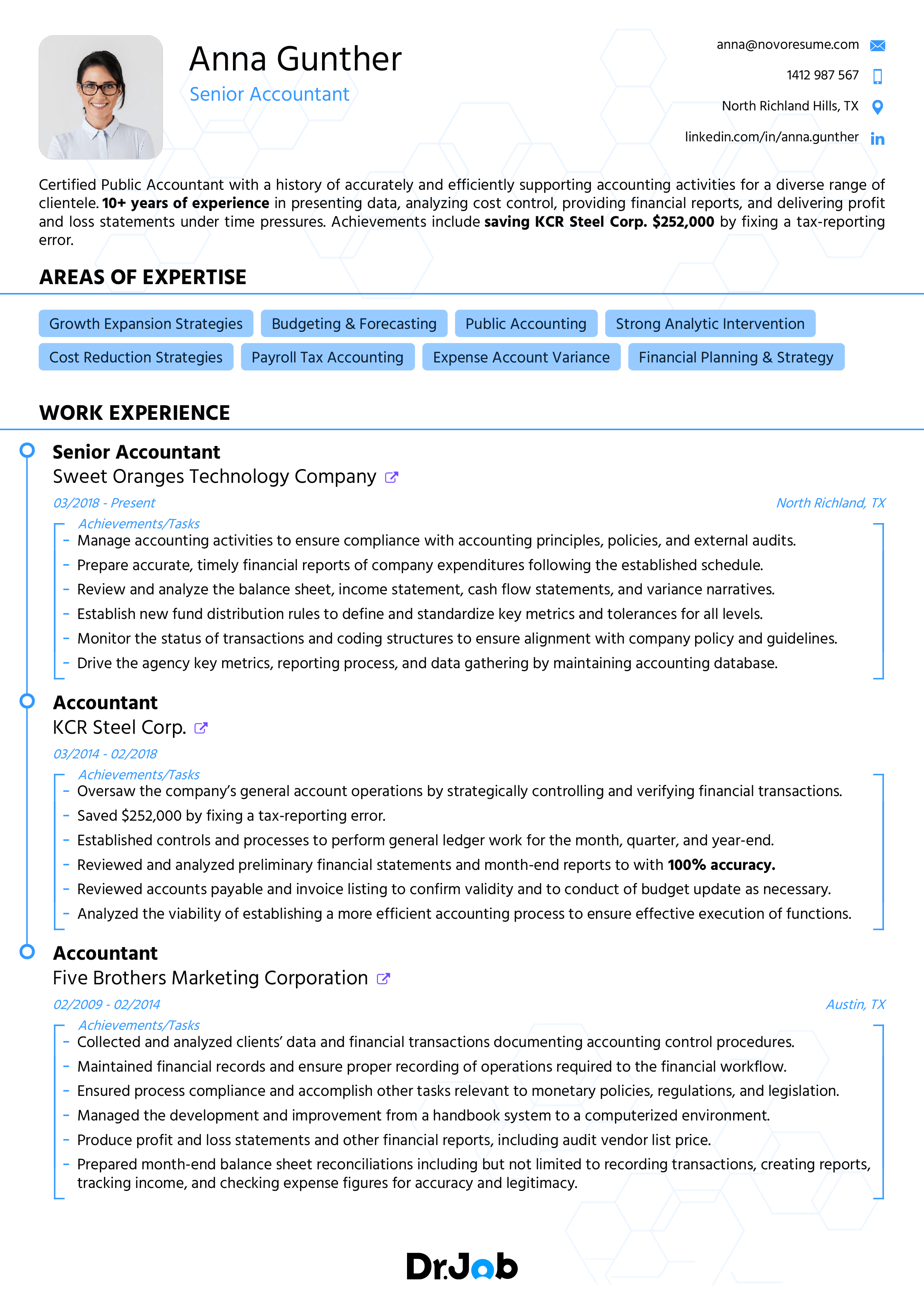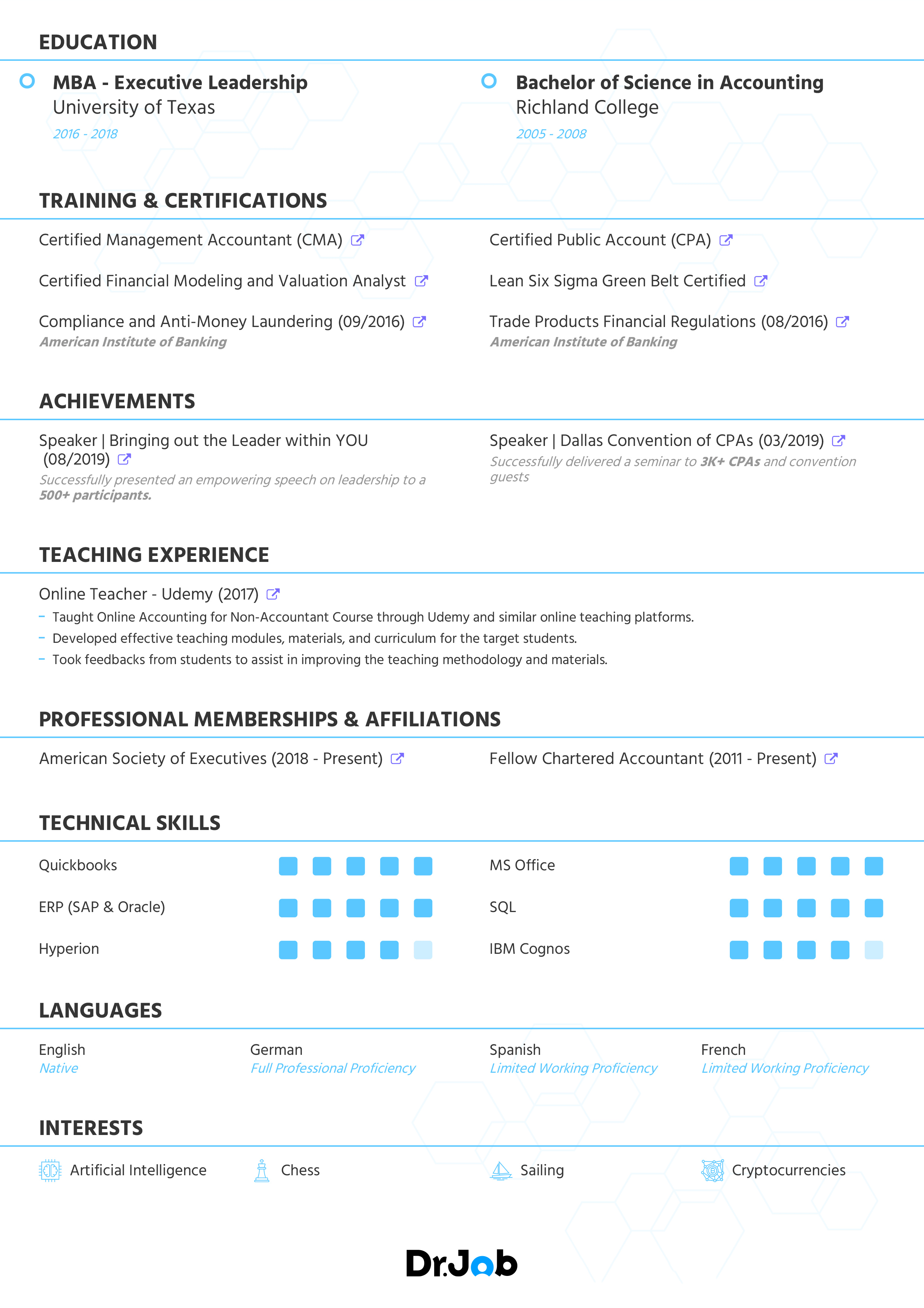 In a short time, you, too, will be able to create such a professional accounting CV. Keep reading and review all the sections that it should contain.
1. Start by Writing a Catchy Summary
To start on the right foot, your accounting resume should have an extract that summarizes who you are and what you can do for the company in a few words. This is a short paragraph of 4-5 lines to give the recruiter a general idea of ​​your potential.
How you write your summary depends entirely on your experience. If you are a veteran candidate with more than 5 years of experience, we recommend writing a professional CV profile highlighting your most significant achievements in your past employment. However, if you are a student, have just graduated, or do not have much work experience, then you should opt for a professional resume objective in which you focus on your skills and goals.
Here are some examples of a perfect summary section for your accountant resume:
Example 1: "Certified Public Accountant with over 5 years experience in financial management and analysis. Skilled in bookkeeping, tax preparation, and financial reporting. Strong analytical and problem-solving abilities. Proven track record of delivering accurate and timely financial information to clients."
Example 2: Expert in the field of accounting, experienced in tax payment management, having optimized tax management, saving up to 20% of annual profits. I seek to be part of a solid and stable company to share my knowledge on the subject and maintain a solvent economic situation.
In this example, the paragraph focuses on measurable results and highlights the candidate's experience.
Let's see how it would be in a profile with little experience:
Professional Objective
A student with a degree in accounting with a lot of initiative and the ability to learn quickly. I developed experience preparing and reviewing invoices and paying suppliers during my professional practice. I want to join Tech Data to support the CFO in administrative-financial matters and improve my theoretical knowledge.
In this example, the approach is slightly different, as it emphasizes the candidate's skills and expectations for the future. Both options are legitimate; analyze your experience level and decide which of the two best suits your needs.
A good personal description in the CV can convince recruiters. You don't have to invent anything: add one of the descriptions our consultants wrote and personalize it with LiveCareer's online CV editor.
2. Highlight your Professional Experience
The section where you explain your past employment is the star of your accounting resume.
For this reason, you should not limit yourself to mentioning the name of the position and the company where you worked. Still, you should also take the time to add the start and end date of the contract as well as a separate description in 4 or 5 bullets of your main responsibilities and professional achievements.
Example of Professional Experience for Accountant Resume
Senior Accountant, XYZ Company
Jan 2018 - Present
Managed the preparation and filing of monthly, quarterly, and annual financial statements for multiple clients
Led the implementation of new accounting software and systems, resulting in improved efficiency and accuracy of financial reporting
Developed and maintained internal controls to ensure compliance with GAAP and other regulatory requirements
Supervised a team of junior accountants and provided training and mentorship to improve their skills and knowledge
Assisted with tax planning and preparation for clients, resulting in significant savings on tax liability
Accountant, ABC Corporation
Jul 2015 - Dec 2017
Conducted bookkeeping and financial reporting for multiple clients in various industries
Prepared and filed federal and state tax returns for clients, ensuring compliance with tax laws and regulations
Assisted with the preparation of budgets and financial forecasts for clients
Provided clients with financial advice and recommendations to improve their financial performance
Collaborated with internal teams to ensure timely and accurate financial reporting
Pay close attention to your achievements and use hard facts and numbers to strengthen them. This will help support your experience and illustrate what you are capable of to the recruiter.
3. Describe your Educational Background
Education is a fundamental aspect of the accounting profession, so don't leave it out. In addition to the name of your degree or title, you must include the name of the academic institution and the start and graduation dates (or expected graduation date, if you are still studying).
Education section example for your accountant resume:
Master of Science in Accounting, University of XYZ
Jan 2013 - Dec 2015
GPA: 3.8
Certified Public Accountant (CPA), XYZ State Board of Accountancy
Apr 2011
Bachelor of Science in Business Administration (Accounting), University of ABC
Sep 2007 - May 2011
GPA: 3.6
This example shows the highest level of education the accountant attained, the field of study, and the institution's name. It also includes the GPA, which can indicate academic performance. Additionally, it shows the accountant has passed and maintained the CPA certification.
If your education section has more achievements than experience, we recommend moving it to the top of your accountant resume, just below the objective/summary.
4. Mention your Most Outstanding Skills
The skills of an accountant are very varied and depend on the area of ​​specialization. That is why, to choose which skills to include in your accounting resume, it is best to carefully review the job offer and identify the company's requirements.
60% of recruiters say that a resume tailored to the job posting has a better chance of making it to the interview round, so take the time to fine-tune it.
Here are some examples of skills that you may find helpful to add to your Accountant's CV
Example of Skills for accountant Resume:
Strong knowledge of accounting principles and financial reporting standards (GAAP, IFRS)
Proficient in the use of accounting software and tools, such as QuickBooks, Xero, and Microsoft Excel
Experience with financial analysis and budgeting
Strong attention to detail and ability to meet tight deadlines
Excellent verbal and written communication skills
Strong problem-solving and analytical skills
Knowledge of tax laws and regulations
Experience with audit and internal controls
Strong team player and ability to work collaboratively
Don't forget to mix soft and hard skills. For more skills, check the following:
5. Add Additional Sections
You've finished the main sections of your accountant resume; now, you must add a few extra details to help you stand out from the competition.
The additional sections of any resume vary greatly depending on the profile of the candidate and the vacancy of interest. Here are some examples of different sections that you can add to your accounting CV:
Languages
Courses and certifications
Awards and honors
Volunteer programs
Availability
Own vehicle
Driving license
Example of Additional Sections for Accountant CV:
Language:
Arabic: Native
English: Fluent
Courses and Certifications:
Advanced Taxation, XYZ University
Financial Statement Analysis, ABC College
Certified Management Accountant (CMA), Institute of Management Accountants
Internal Audit, XYZ Institute
Financial Modeling and Valuation, DEF College
Certified Public Accountant (CPA), XYZ Institute
Availability: Immediate
6. Consider Writing a Cover Letter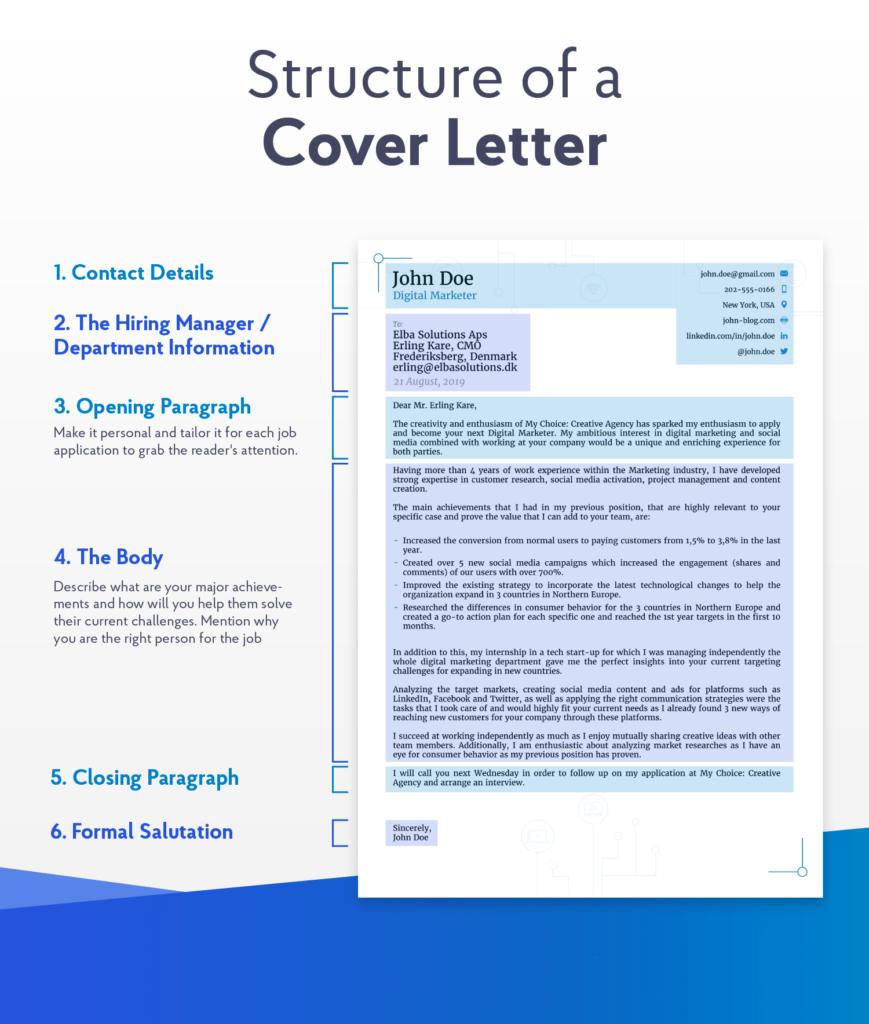 49% of recruiters prefer a resume with a cover letter, so don't miss your chance and write one for your accountant CV.
Cover letters demonstrate your interest in the position and give arguments to the company to hire you.
While writing a good cover letter is an entirely different process than writing a resume, here are some basic guidelines for creating your own:
Add a professional headline.
Write today's date.
Greet the recruiter by their first name.
Start with a paragraph that "hooks" the recruiter's attention.
Explain why you are perfect for the company and why the company is ideal for you.
Invite the recruiter to meet in person.
Add a closing and a signature.
7. Important Aspects You Have to Consider for the Best Accountant CV Format
The only thing missing for your accounting CV to be perfect is to give it the proper format, so here are some basic recommendations:
Use an A4 size sheet of paper and margins of 2.5 CM.
Use a modern, professional resume font and set a font size between 10 and 12 points.
Opt for a line spacing of 1.5.
Try to use the reverse resume format.
Save your CV with a PDF extension to save your original design.
Read Also:15 Awesome Summer Jobs That Will Earn You Cash and Experience|Drjobpro.com
Congratulations! You now have a perfect job-winning accountant CV,