October 2022
11
Behind every successful job search journey is a strong and powerful application (resume and cover letter). Some candidates believe cover letters are useless because they think recruiters don't check them.
This is a very wrong idea, and the cover letter is indeed necessary for you to stand out among others and get invited for the job interview.
A well-written cover letter offers recruiters a snapshot of your skills, experience, and personal attitude. It convinces the recruiter to open your resume to know who you are as a pro.
Most job seekers don't know how to write an excellent cover letter that attracts the hiring manager. It's not as difficult as they think. You've to consider a few tips while crafting your cover letter that boosts your brand as a job seeker.
So, how to write a job-winning cover letter for job?
Let's identify first, "What's a cover letter?"
A cover letter is a document submitted with your resume to give detailed information about your skills and experience.
The letter contains specific details as to whether you are eligible for the position you are applying for. Don't just rephrase your resume—instead, provide detailed information explaining why you're the perfect candidate to satisfy the employer's work criteria.
Think of your cover letter as a selling copy that will sell your qualifications and help you get the job. Therefore, you want to ensure that your cover letter leaves the most remarkable impression on the person who is reading it.
What is the importance of the cover letter?
It's useful because:
Recruiters pay attention to only "powerful" cover letters, so you've to well-craft it to shine among others and push the recruiter to read your resume.
The first step helps the recruiter deeper understand the candidate's skills, qualifications, and personality.
Cover letters give applicants the ability to mention their accomplishments simply and clearly, thus increasing the hiring specialists' attention.
A cover letter is an implicit way to mention your expected salary, working hours, and preferred location.
It explicitly shows your communication skills.
How to Write A Cover Letter? Secrets Unlocked
Start Professionally
While writing a cover letter, bear in mind that you're making up an unforgettable, conversational, and unique story.
Your introduction has to be perfect to draw the recruiter to your story and pique his interest in reading more.
As you aim to get the recruiter's attention from the first lines, make it brief. Mention how your qualifications and skills suit the position you're applying for.
Give the recruiter an overview of what he will read on the rest of the cover letter in a catchy way.
Stay Organized & Precise
Once you've tailored a catchy professional intro, you have to highlight four or five main points that will show how you are the perfect candidate who meets the company's requirements and what you can bring to the table.
You can list these main points in bullets or use bold format. Stay professional and don't overuse decorative texts.
Don't only rephrase your resume, but send concrete examples to prove your skills.
Remember, using action verbs can do it all for you. Know what are the action verbs and how to use them?
Customize Your Cover Letter
"One size fits all" cover letter will not help you in getting a job. You've to be creative and unique. It's certainly not a smart idea to adopt a negative tone or mention much personal stuff in your cover letter.
Give the recruiter additional details that aren't in your resume but stick to be professional and friendly.
You can mention accomplishments that are specifically relevant to the role you are applying for. These stories strengthen your value as a candidate and help you to show your exceptional skills.
Write A Perfect Closing Paragraph
By the end of your cover letter, summarize how your qualifications make you a good match for the business and the role.
State that you would like to have the opportunity to discuss the job prospects with the recruiter.
Explain what you're going to do to follow-up and thank the recruiter for his time reading your cover letter. You have to be confident, don't mention words that show you're begging the job.
Find The Recruiter's Name
Dear Mr/Mrs. HR may cost you losing the job. Make your research to find the recruiter's Name and address your letter directly to him.
Addressing it to the right person ensures that it will be read, and you'll get hired.
Quick Tips!
Remember to proofread the cover letter before sending it. It may be a time-waster, but it helps to ensure that you're addressing the right recruiter and writing the company name correctly -when you write several cover letters at once, it's easy to make an error.
An impressive cover letter will help you get noticed by recruiters and help you get invited for the interview. Spend your time tailoring your cover letter to convince the recruiter that you're the perfect candidate for the job opening.
The year 2023 is predicted to be full of opportunities – you need to reap the benefits of that. Bear in mind that a strong cover letter style would help you get your dream job in 2023.
Here's winning sample cover letters for job application!
Simple Cover Letter Sample: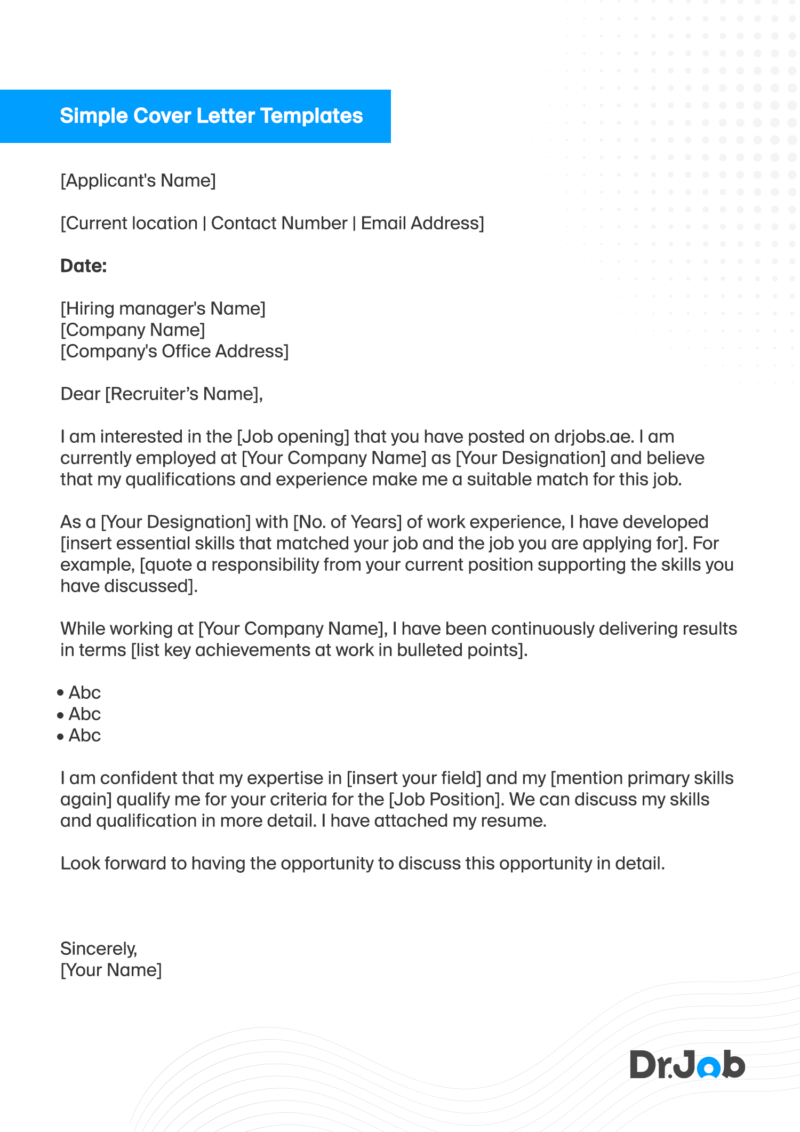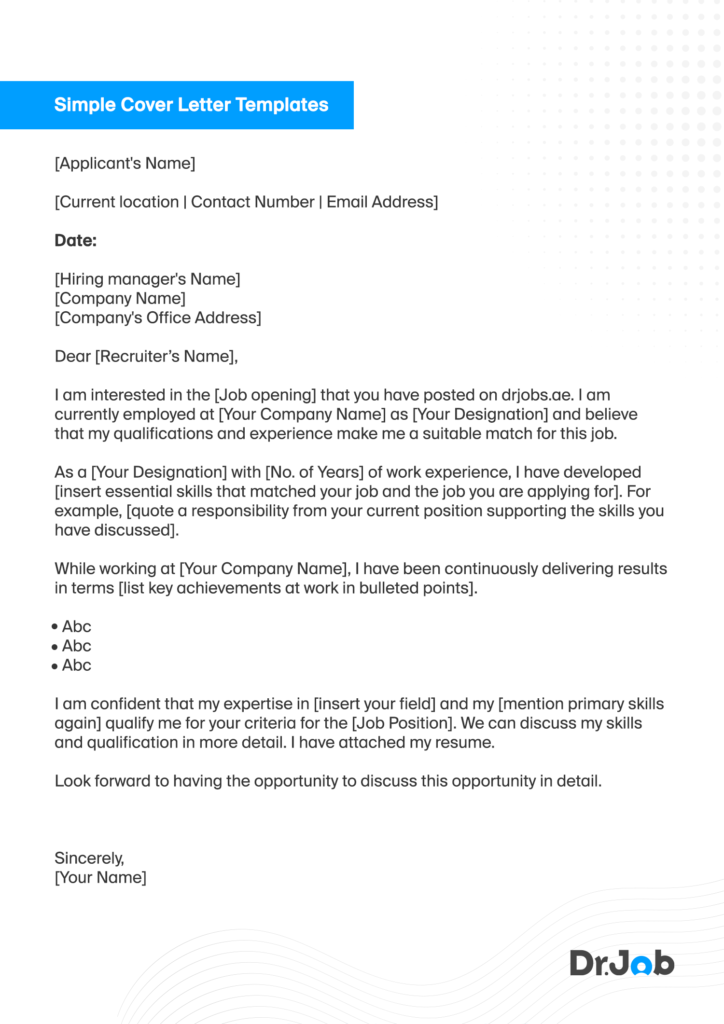 Cover Letter Sample for A Student: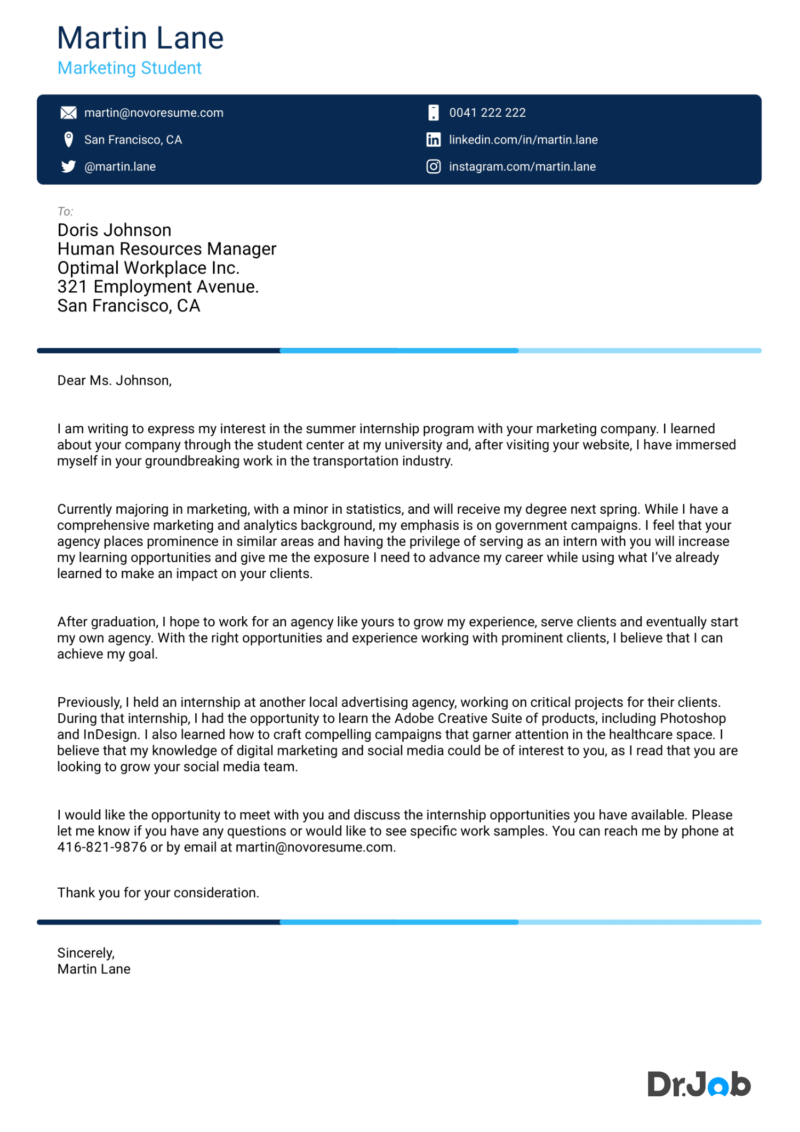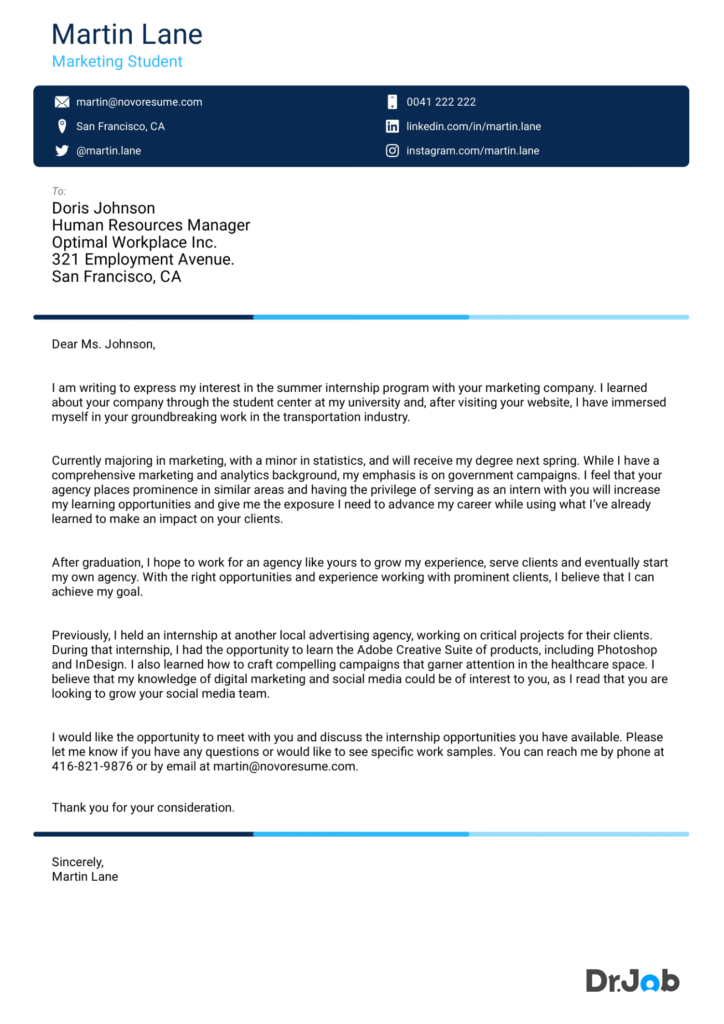 Cover Letter Sample for A Business Manager: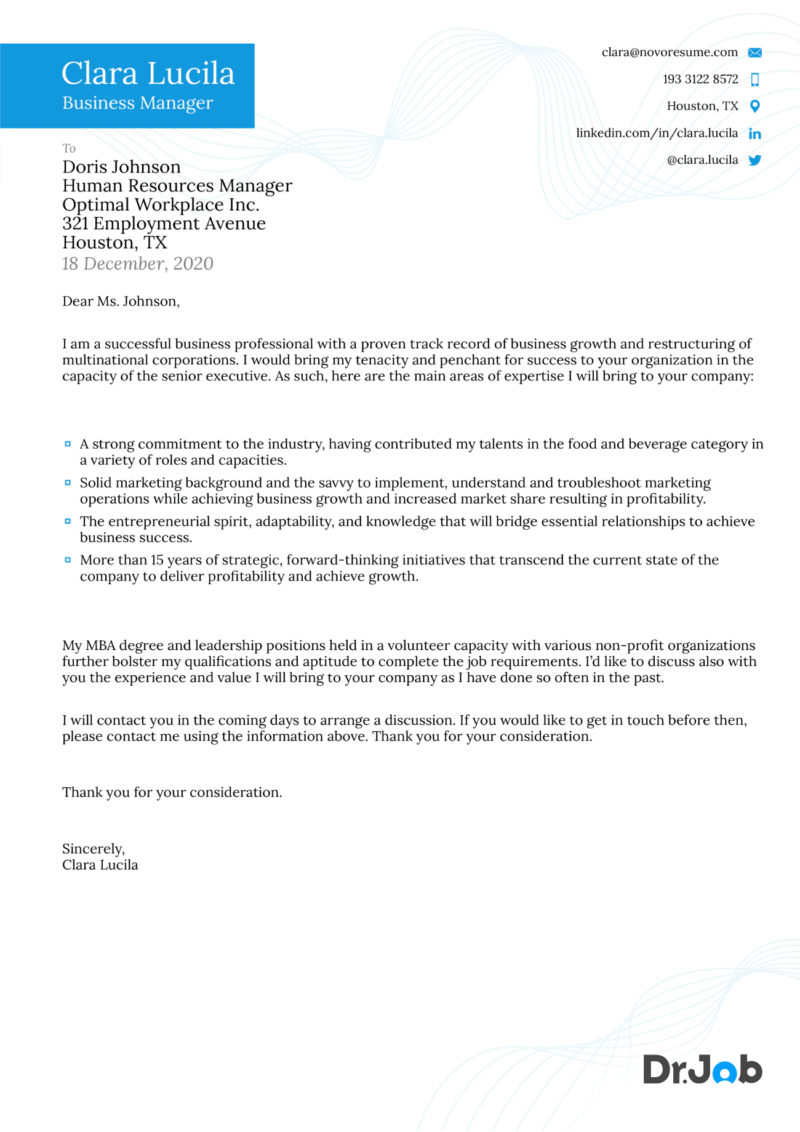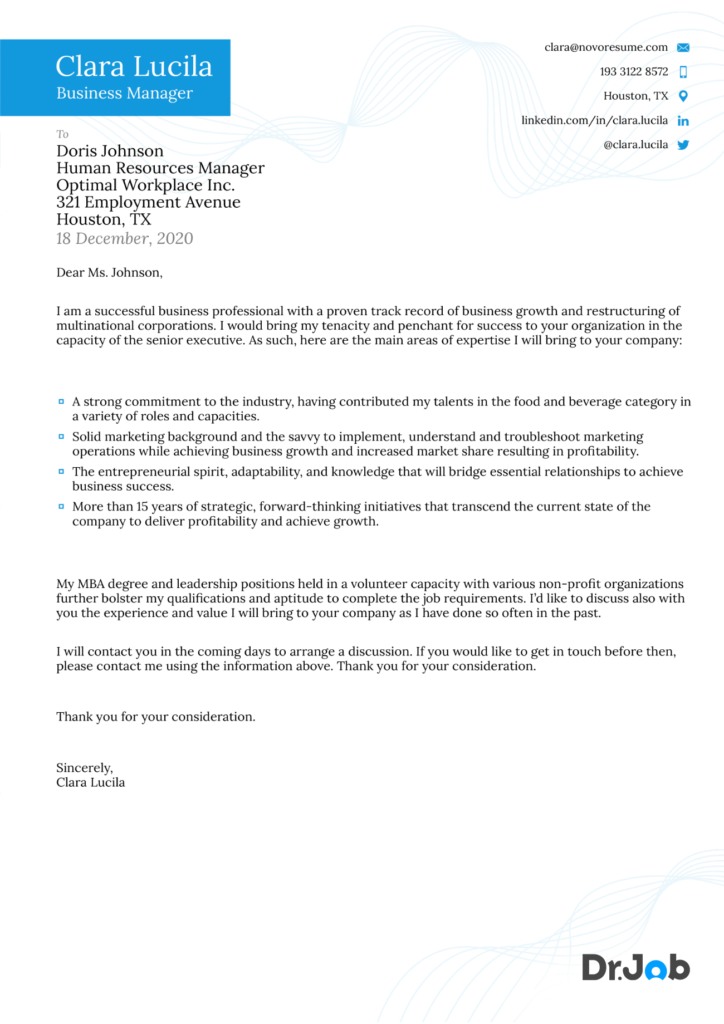 Cover Letter Sample for Changing Jobs: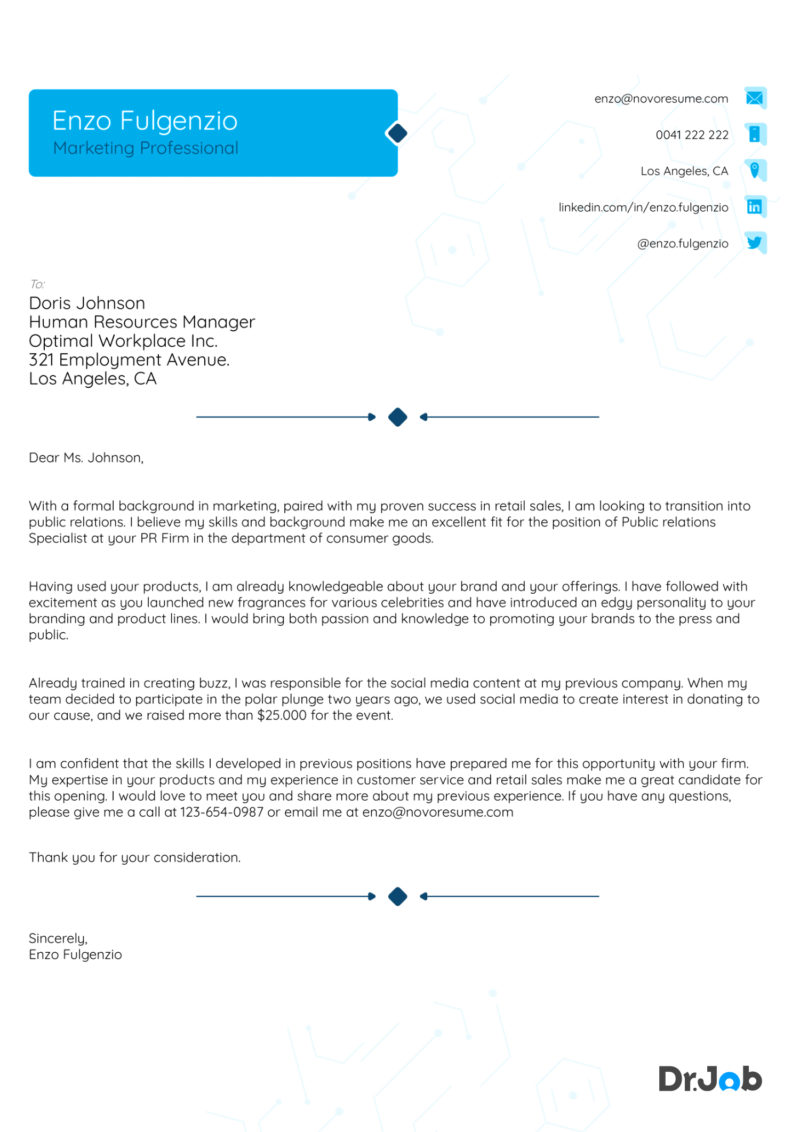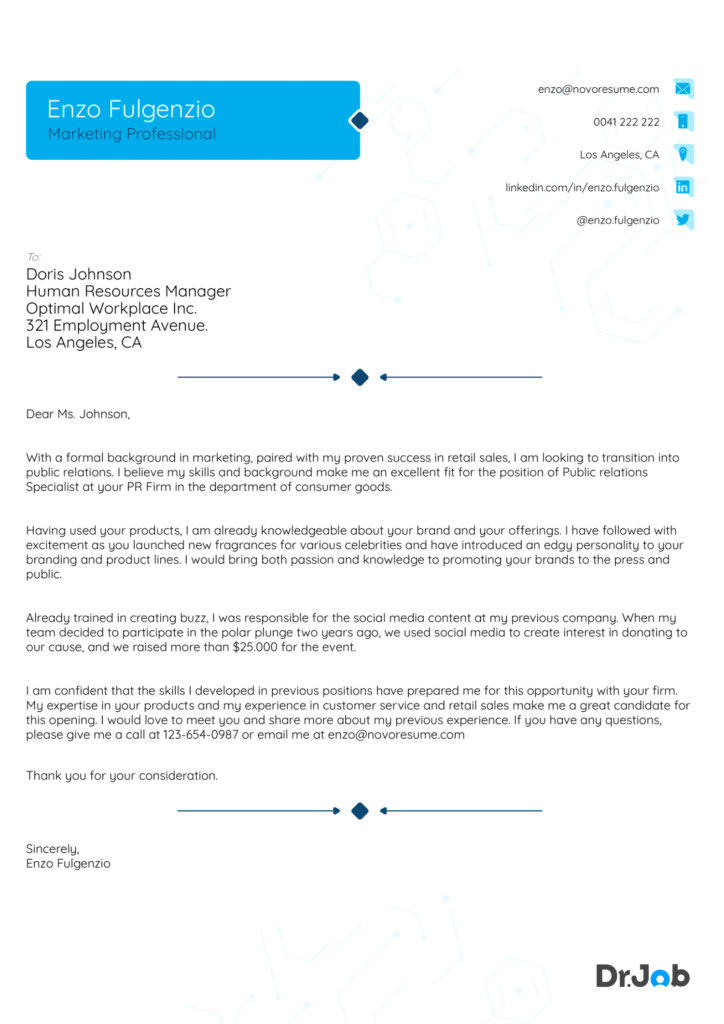 Cover Letter Sample for a Phd Application: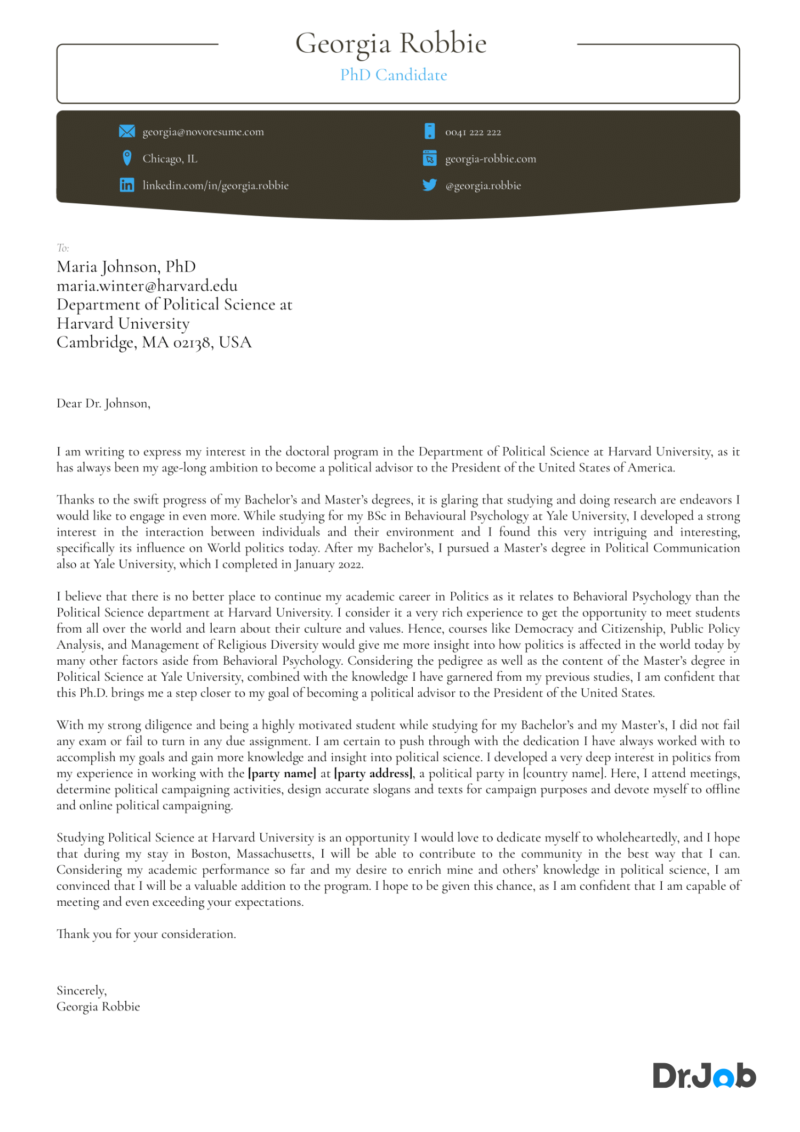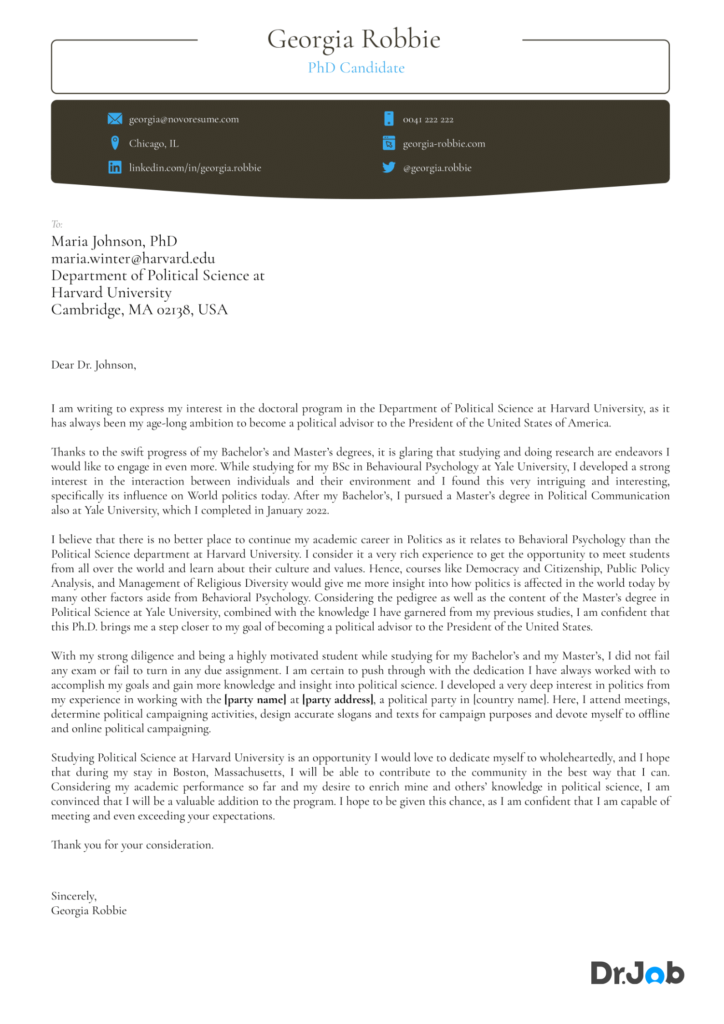 Cover Letter Sample for C-suite Level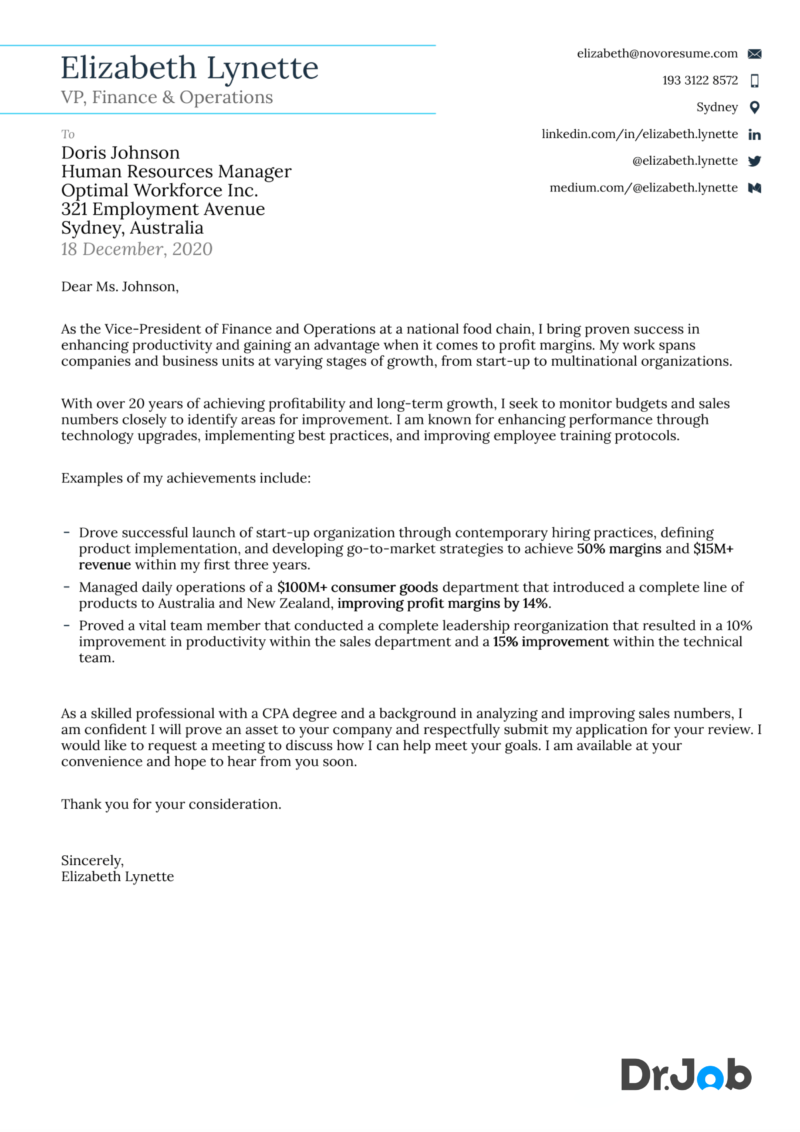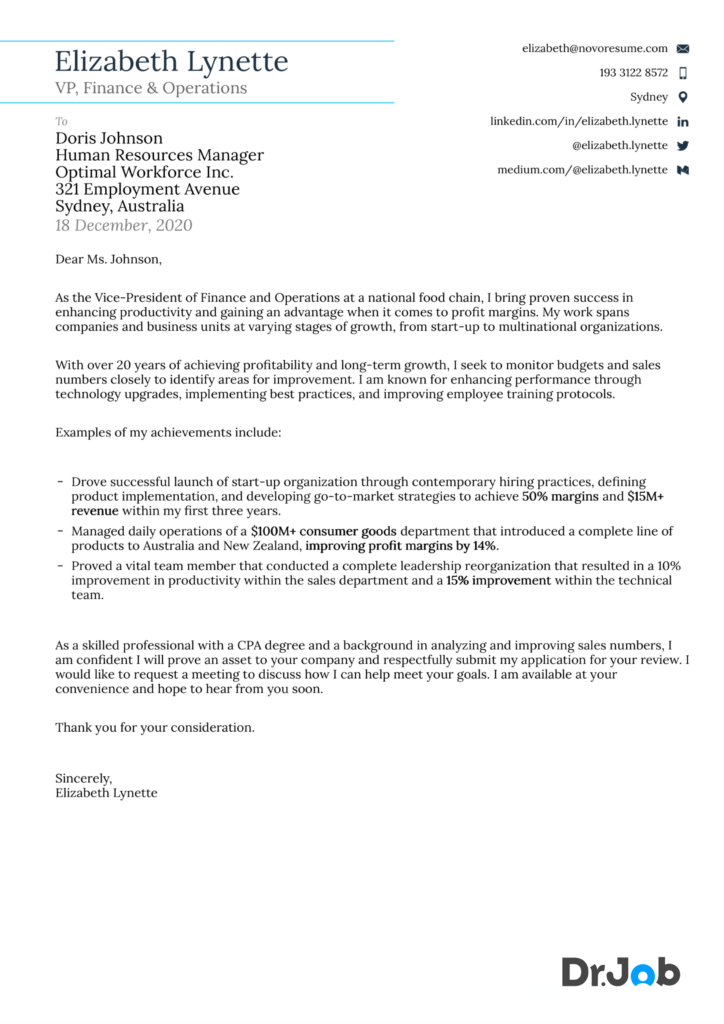 Cover Letter Sample for A Project Manager: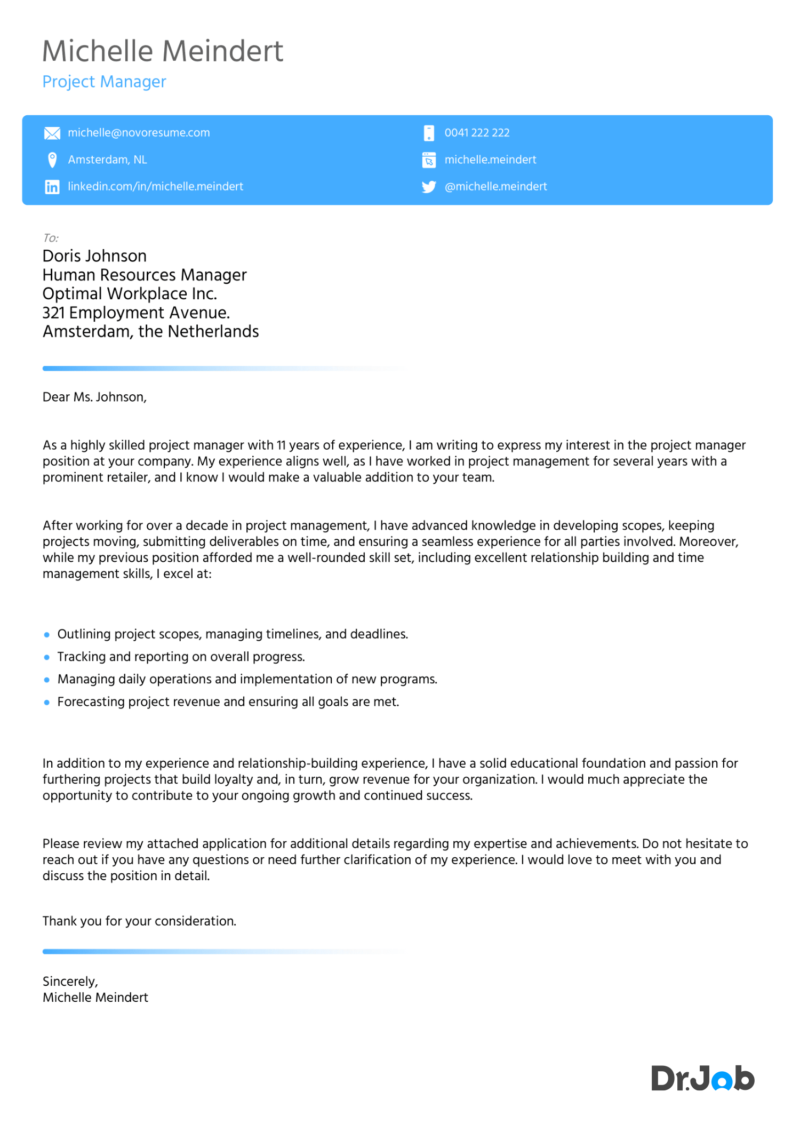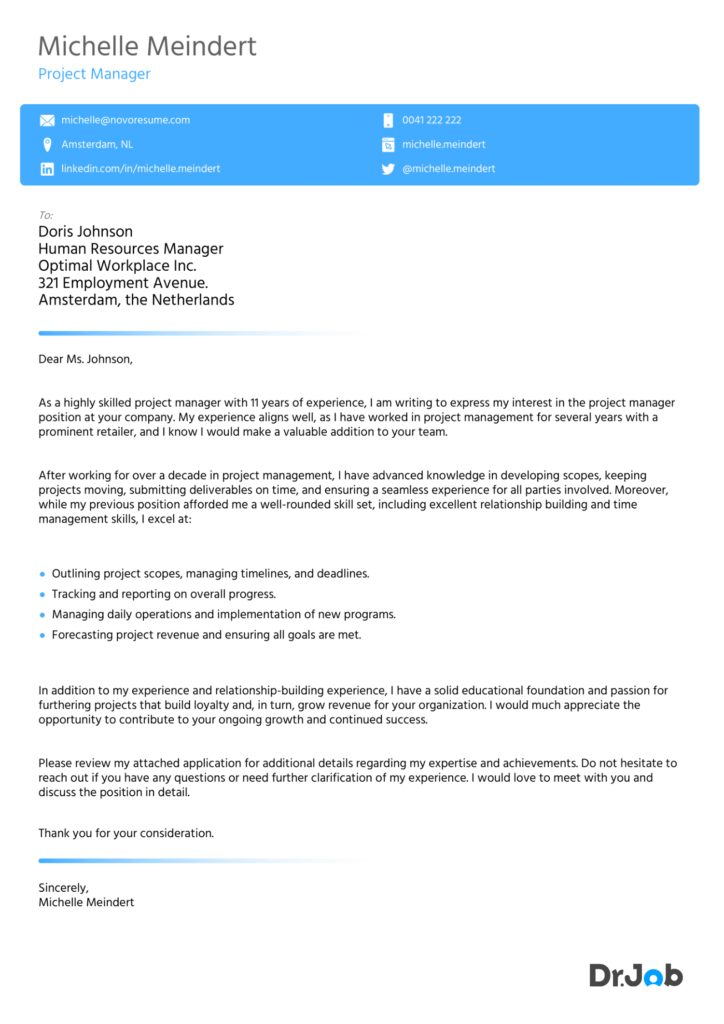 Now, you have successfully written a perfect cover letter for your next job applications and it's time for creating a tailored resume that convince both the ATss and the recruites! With our complete guides, you'll nail it.
Useful Guides: