May 2021
08
Now with Drjobpro, you can easily create your CV in just 5 minutes. You can also download it to your device; So you can access it anytime and anywhere.
Here are the steps and tips you should follow to get an excellent CV and let employers select you.
Profile summary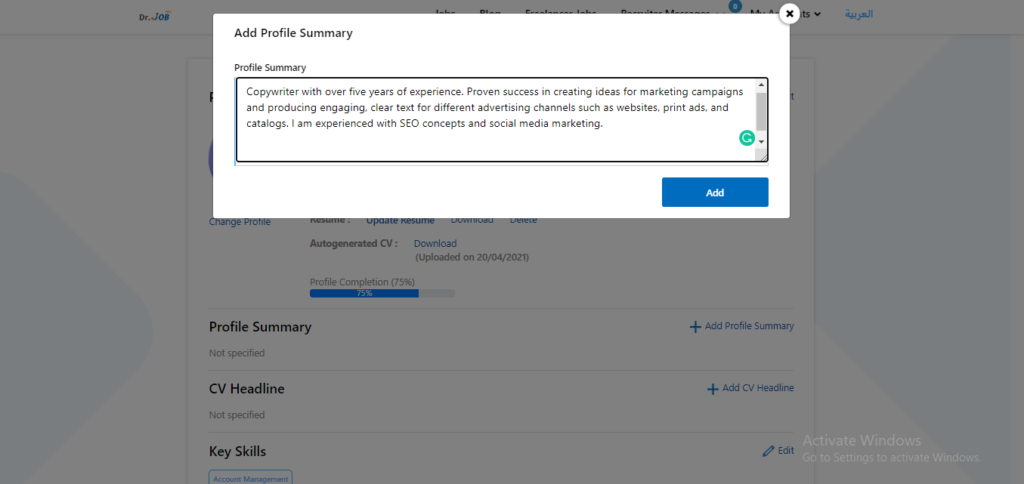 1- Keep it short and to the point.
2- Include your skills, accomplishments, knowledge, and experience.
3- Mention your current job (if it exists).
Proven success in creating ideas for marketing campaigns and producing engaging, clear text for different advertising channels such as websites, print ads, and catalogs. I am experienced with SEO concepts and social media marketing.
Resume headline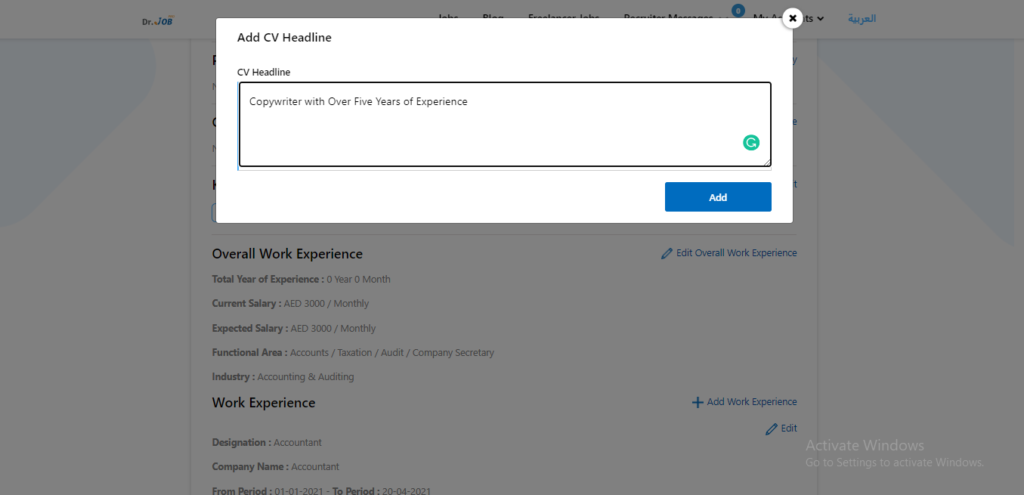 1- Make it short.
2- Use keywords.
3- Capitalize the letters.
Copywriter with Over Five Years of Experience
Key skills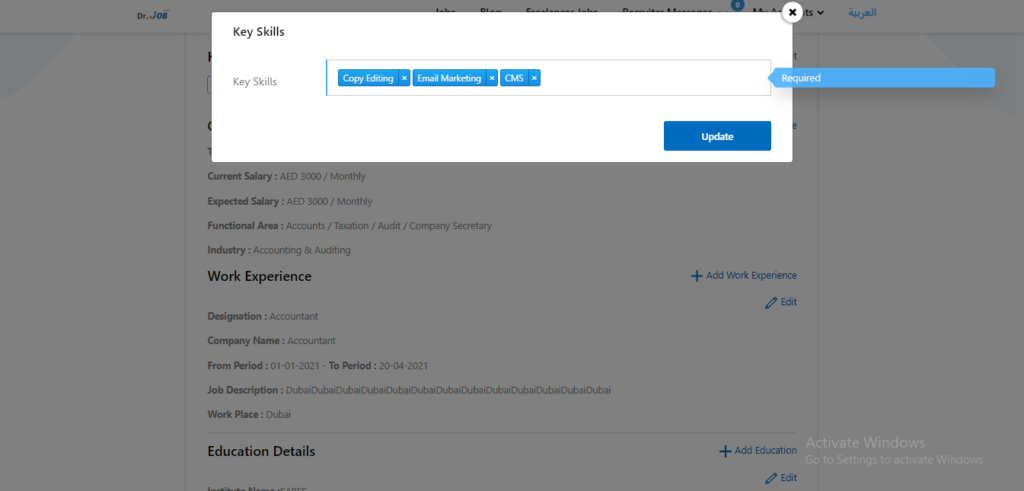 Your skills guarantee you a unique CV among the rest of the candidates. Recruiters take only 6 seconds to choose to continue reading your CV.
Highlighting your skills increases your chances of being chosen.
Copyediting
Email Marketing
CMS (e.g., WordPress)
To know more information about writing key skills, click here.
Overall work experience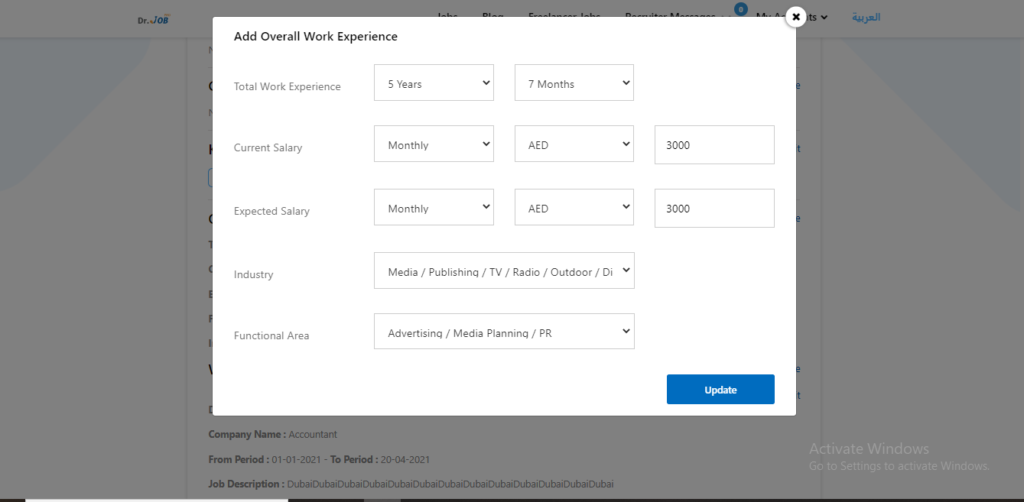 1- Notice that every word counts, even if it's voluntary work.
2- Be honest and factual regarding years of experience, your current salary, and your expected salary.
Work experience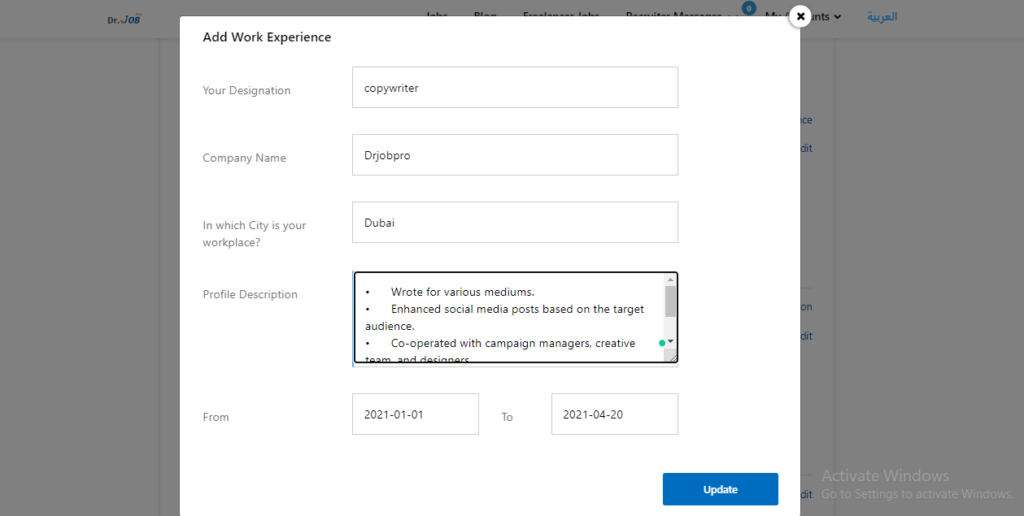 1- Add every work experience.
Every work experience counts. Do not underestimate anything that you've done before. It eventually adds you a lot of experience and changes you professionally.
2- Use positive language.
3- Illustrate your role in points.
4- Prioritize your accomplishments.
5- Use past tense if you already left the job.
6- Use present tense if it's your current job.
Profile description example
• Wrote for various mediums.
• Enhanced social media posts based on the target audience.
• Co-operated with campaign managers, creative team, and designers to create blog posts and social media content.
Education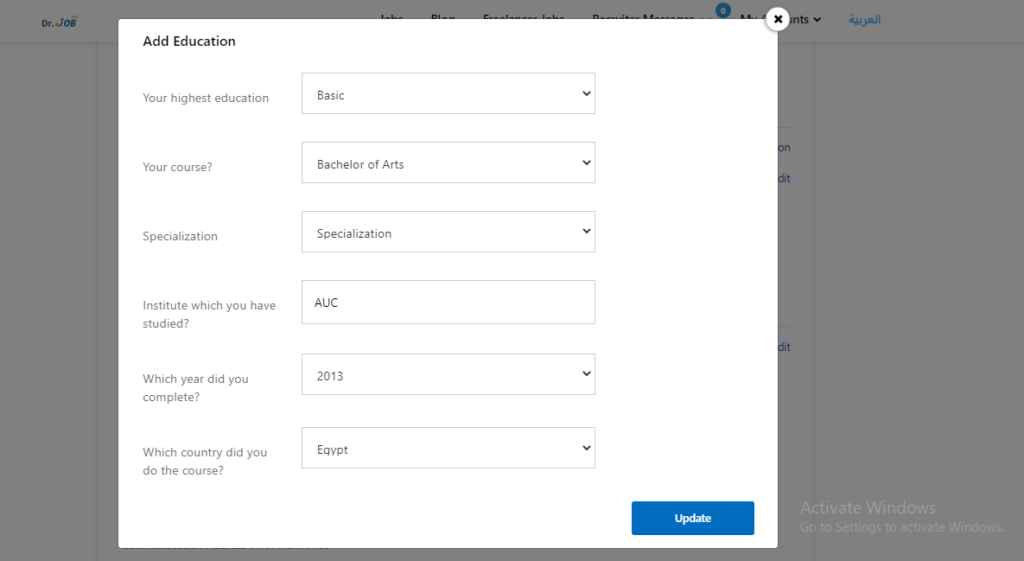 You'll select the following:
1- Your highest education.
2- Your course.
3- Specialization.
4- Institute which you have studied?
5- Which year did you complete?
6- Which country did you have the course in?
Personal details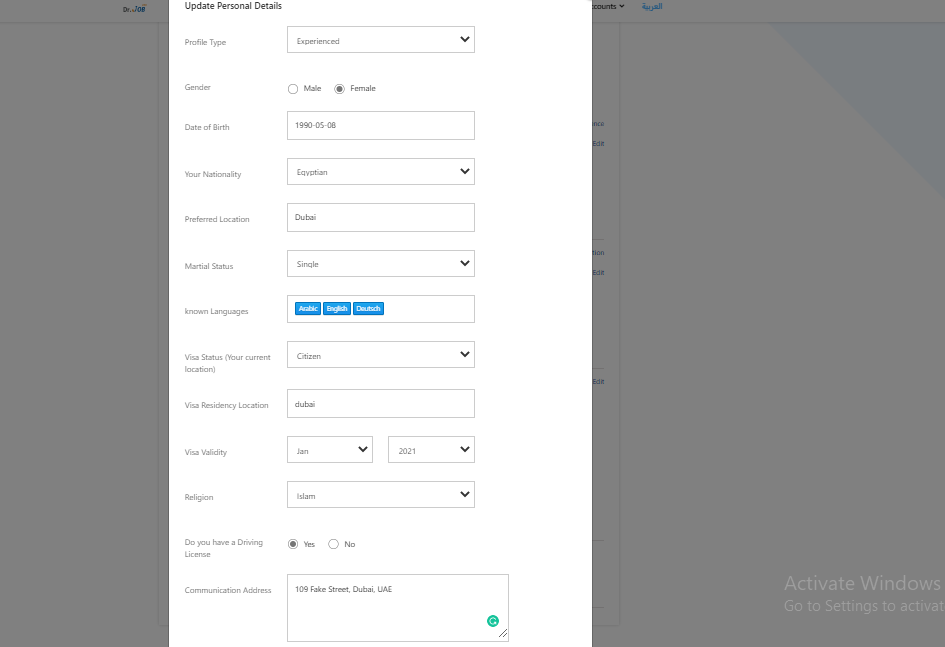 In this section, you'll be required to fill in:
1- Profile type.
2- Gender.
3- Date of birth.
4- Your nationality.
5- Preferred location.
6- Marital status.
7- known languages.
8- Visa status.
9- Vise residency location.
10- visa validity.
11- religion.
12- Do you have a driving license.
13- Communication address.
14- Communication language.
Video resume
This one is optional, as companies rarely ask for a video resume.
If you have to create one, follow these steps:
1- Choose a suitable background.
2- Write a brief script.
3- Dress professionally.
Now you can easily download your resume
1- Go to the profile information section.
2- Auto-generated CV.