December 2021
12
The festive season is rapidly approaching. People tend to lose their focus and energy at this time of year. The year has been a long one for many individuals, and they are anxious to relax and spend time with loved ones.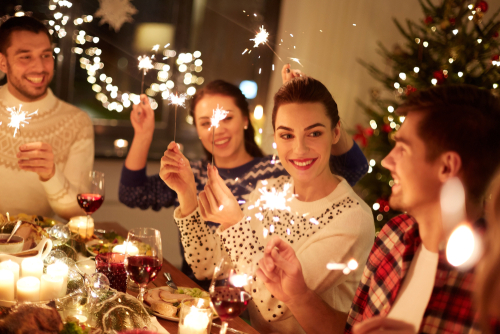 Managers must consider both the company's and its employees' best interests when deciding how to encourage their workforce.
Read also, 10 Tips to A Successful Job Hunting During Holidays
Dr. Job Pro is here to show you 9 ideas on how to encourage your employees during the festive season.
1- Make It Easier for Your Workers to Take Time Off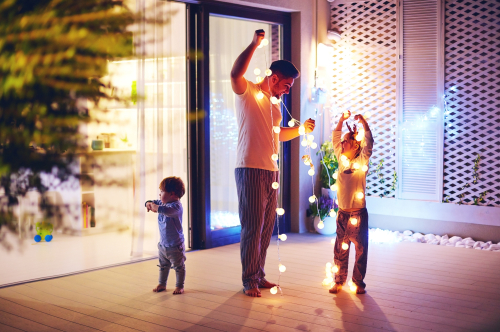 This suggestion may sound paradoxical because you want your staff to keep working over the holidays. However, putting in more effort does not guarantee more significant results. Overworking yourself can lead to employee burnout.
Tiredness is a common reason for a decline in output.
That means that rather of pressuring workers to remain working through the holidays, managers should instead encourage them to take some well-earned time off.
As a result, many employees push through with their plans rather than submitting a vacation request form.
The company and its employees both benefit enormously from paid time off.
It is critical to promote a good work-life balance and demonstrate to employees that they are appreciated as individuals, not simply as payroll expenses.
As a manager, you must manage holiday leave well.
Ensure that all leave requests are filed by a specific date and that the company can continue to run even when employees are away.
2- Put on your cheerful face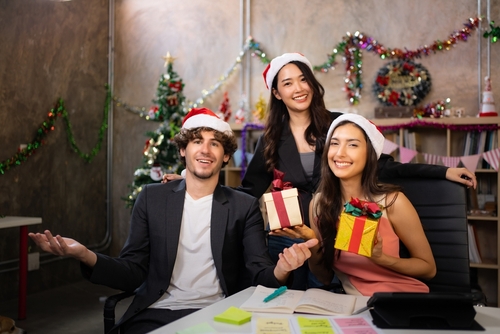 This time of year, it may be tempting for workers to focus on their party attire rather than the approaching deadline, but finding the right balance is essential.
Helping employees manage their time more effectively might help them better handle their many responsibilities.
Even while they'll have professional assignments to do before they take their holidays, they will also be juggling Christmas with their family and friends outside of work.
3- Acknowledge the past year's accomplishments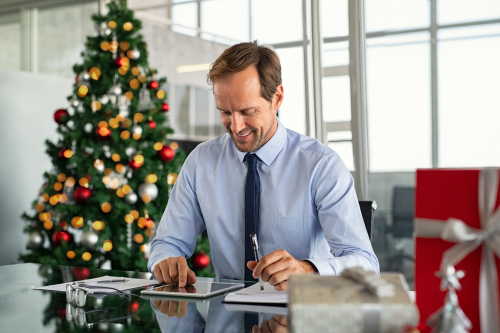 Many individuals enjoy their occupations and take pride in performing them well, even when working to make money. Consequently, employees want to feel recognized and respected for their work.
Recognizing their achievements from the previous year is a great approach to start this conversation.
There are a variety of methods to demonstrate your gratitude to your staff. You can do it by awarding bonuses or monetary incentives to those employees who have exceeded expectations. 
Employee morale and engagement are boosted when managers publicly express their appreciation for their workers' hard work.
Rewarding your staff is a key factor in encouraging them to perform well.
As long as employees can see the value of their efforts, you'll be able to motivate them to do an even more incredible job in the future.
Consequently, this creates a work environment where workers are motivated by a sense of purpose and pleasure in the work they accomplish for your company.
As a result, this type of workplace encourages employee retention since no one wants to leave a firm that recognizes the value they bring to the table.
4- Send a heartfelt thank you note
Employers often provide gifts or rewards to their employees over the holiday season to thank them for their hard work throughout the year.
Employers need to examine the demographics of their workforce, such as the age range, the brands that appeal to employees, and their preferred manner of delivery, when handing out retail gift cards.
5- Do something fun or throw a party!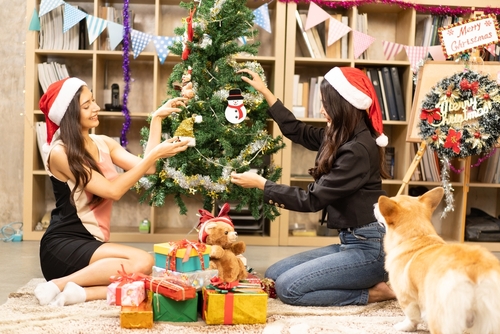 Even though business is primarily about the bottom line, it's essential to have some fun and games.
Organizing parties and events before the Christmas break can help you break down the barriers between teams and departments in your company.
Logically, employees in the same department form a close-knit group. For the holidays and beyond, it's a good idea to encourage all of your employees to mingle together.
Companionship among employees is fostered through social events like these, which boosts morale and productivity.
Including games and activities is a brilliant idea no matter what kind of gathering you're planning.
6- Take a Stress-Free Approach to Your Business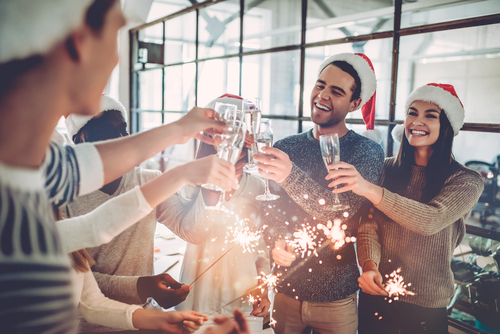 No matter how much effort is put into planning festive events, the work is still exhausting. Even though the holiday season is enjoyable, it may also be taxing.
It's no secret that the Christmas season can be a particularly trying time of year for many people.
When employees are under stress, further efforts can be made to cope more effectively. Sharing wellness suggestions or conducting breathing exercises during team meetings are just two ideas.
As a last option, you may provide your employees with corporate health programs that will help them improve both their physical and emotional health. After-work exercise and meditation classes will be offered as part of these programs.
7- Begin Making Plans for the Upcoming Year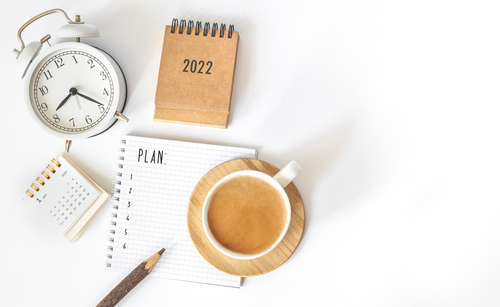 To keep your staff motivated, it's a good idea to remind them that work will continue in the New Year.
In most firms, management holds quarterly meetings to assess the last three months and set goals for the next three months, rather than waiting until the end of the year to plan for the future.
That enables firms to determine what has worked and needs to be improved upon.
As the year winds down, businesses are ready to get back to work, making quarterly planning even more critical.
A company's future success is more likely when employees are given a voice in the planning process.
Motivating employees by letting them know there are goals and a strategy in place for when they return from their time off over the holidays is common in many businesses today.
Also, it's an excellent time to think about staff training. Learn more about your team's motivations and how you can best help them succeed by talking with them often.
Finding out their professional goals and ambitions, you may give them development programs like one-on-one coaching and mentoring and other activities that will help them unleash their potential of becoming future leaders in your company.
8- Show gratitude and appreciation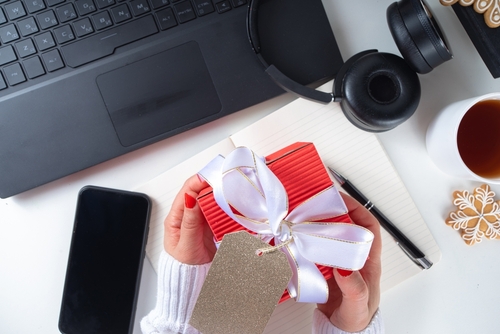 With all the obstacles 2021 has brought, there's no better time than now to show your staff how much you appreciate them.
Happy employees may be a stimulus for a successful start to the new year. For the first time in a long time, employees genuinely need to know they're appreciated and respected in the workplace.
During challenging circumstances, this acknowledgment might help boost motivation and mental well-being.
Companies can reward their employees with money or non-financial incentives and publicly recognize them for their hard work in various ways.
Perhaps it's as simple as a handwritten thank you note or an electronic greeting card.
Businesses need to encourage their employees to recognize each other in the workplace and across management levels, fostering a more engaged and content workforce.
9- Pass the task to someone else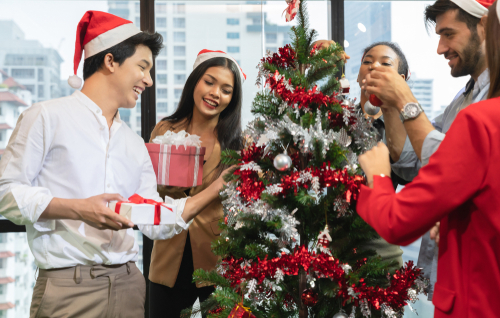 Christmas and New Year's are hectic times, and it's tempting to take on too much. Don't forget to delegate since you can't do it all, or better yet, learn to say no and be firm in your convictions if necessary.
People are always eager to provide a hand. Demands at work and home may be sky-high, leaving individuals feeling worried, overwhelmed and dissatisfied, and frequently feeling more unable to accomplish anything.
As a result, people may become depressed and deal less with long-term stress.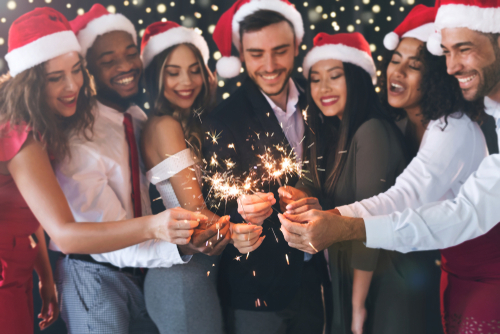 By following the previous ways, you can support your employees through this time of year. Dr. Job Pro wishes you a delightful festive season. Merry Christmas and a happy new year!